Written by Barbara Newtown
Original Publish Date October 2013
Bridles and Britches is a full service English tack shop, located at 13232 Highway 40 in Folsom, LA. Bridles and Britches is also located in a big gray gooseneck that you can find at hunter-jumper shows and dressage shows from Louisiana to the Florida Panhandle. "We succeed on customer service," says owner Hilda Lanaux, who runs the business with her daughter Catherine. "We know our customers personally. I hardly get the door open and people are waiting to come in! Helmets, boots, saddles—we will fit you and you will walk out with the proper one."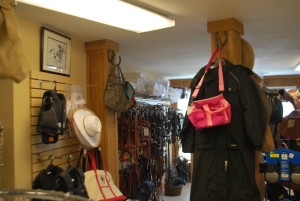 The tack shop business is challenging. Hilda ascribes her success to maintaining an inventory that is suited to her customers, the dressage and hunter-jumper enthusiasts. "We are the only full-service tack shop in Louisiana and most of Mississippi," she says. The key to growing a loyal clientele is supplying a very good product for the price and using vendors who will stand behind what they sell. Hilda says that the Marcel Toulouse saddles she carries have great technology and excellent service. For $1200 to $1900, a rider can get the same quality that shows up in a $4000 to $5000 saddle. The Toulouse saddles come with several different styles of knee blocks and tree sizes that range from narrow to extra wide. Hilda is especially excited about the "Genesis" tree option: a wheel in the tree turns, allowing infinite adjustment between the standard sizes, and locks in. "There's a ten-year guarantee. The Marcel Toulouse tech comes immediately if you need help with your saddle. That's what makes people happy."
Hilda stays on top of the latest fashion trends. The hunter-jumper "look" is becoming more traditional for the show ring: black or blue coats, tan britches. But the coat fabric is high-tech: washable and breathable. Color now shows up on the insides of the shirt collars and sleeves; buttoned up, the look is formal; unbuttoned, it's casual.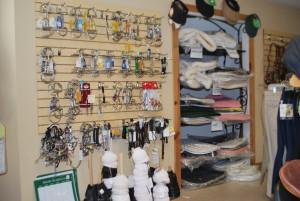 Beating the heat is important to Hilda's customers. She carries the EIS Cool Shirt, which has the patented "IceFil cooling factor" built into the fabric. "IceFil" is guaranteed to lower your body temperature 5 degrees, even in hot and humid weather. "We've been blowing the EIS shirts out the door ever since we got them," says Hilda. Helmet technology is also improving: The Samshield and One K Defender helmets are designed with a vent in the liner that allows air to flow over the head. The liners are removable and washable.
"Know your merchandise," says Hilda. "If you have it and can't explain it, you can't sell it." Hilda and Catherine both ride, so they know what riders need. Catherine used to ride jumpers, but now that she's a mom, she's gone back to hunters, and is training a young homebred. Hilda is retooling Catherine's Irish Sporthorse jumper as a dressage horse. "He has the greatest brain in the world. A real Steady Eddie!"
Hilda started riding at 40, when her kids started riding. "Riding snowballed into breeding …" she says. These days she raises Danish Warmbloods at her Hil Cat Farm, in Franklinton, Louisiana, 8 miles down the road from Bridles and Britches. Her recently deceased stallion Willemoes was a leading Danish sire, and she still has a lot of his frozen semen. Willemoes' Holsteiner bloodlines gave him great jumping talent. Hilda specializes in breeding hunters and has success selling her weanlings and yearlings on the East coast. She believes that American-bred warmbloods can equal the best that Europe is producing—and they are here, not there. "The Europeans keep their best," she says. "It would be nice if people in the US knew that!" She praises the — USEF, which is doing more to promote American sporthorse talent.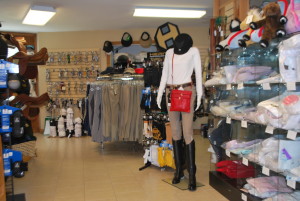 Look for the big gray gooseneck at your next show—or drop by the 3300-square foot Bridles and Britches store in Folsom—the next time you need the perfect piece of equipment or the latest equestrian fashion. Don't be afraid to ask Hilda a question—she knows her stuff!