Written by Mike Milazzo
Original Publish Date August 2015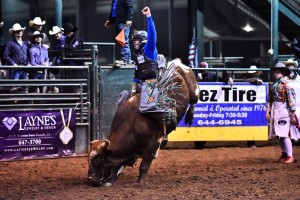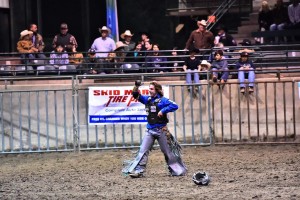 Cody Martinez, 17, of Gonzales, Louisiana, discovered his passion when he saw "8 Seconds." (The movie is about the life of Lane Frost, the 1987 PRCA Bull Riding Champion.) Cody says, "I wouldn't go to bed without watching it!" Since he was still in diapers, he had to wait a while before he got on his first bull.
In the meantime, Cody started riding sheep when he was two or three years old. He moved up to riding ponies bareback. Finally, when Cody was eight or nine, he rode his first bull.
He started taking lessons from Scott Sullivan and he practiced every Tuesday and Thursday. He traveled to Liberty, Mississippi, twice a month for more experience. When he was a seventh grader, he attended the Chris Shiver's bull riding schools.
Practice paid off. Cody made Nationals all three years of junior high. His first memorable ride came on his first trip to Nationals in sixth grade, when he covered his first bull. That year he was 4th in the state and finished 9th at Nationals. In seventh grade he didn't place; in eighth grade he finishes in 23rd place. Cody has continued his streak: he's now a junior in high school, and qualified for the National High School Finals Rodeo in Rock Springs, Wyoming again this year.
Cody misses the fun of the Junior High Nationals. However, at this point in his bull riding career he wants more serious competition. High School rodeo isn't enough: he wants to get his Professional Rodeo Cowboy Association card before he graduates.
Cody is home schooled through Dutchtown High's APPLe Digital Academy. After graduation he plans to study welding at ABC Technical School.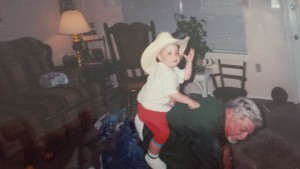 His mother Kristi Gueho, said that Cody has not been hurt badly yet, but in bull riding "it's not if you get hurt; it's when you get hurt. We keep counting our blessings and thanking God for his safety."
Cody says, "I want to thank my mom, dad, step dad, Paw Paw, all of my family, and my biggest fan—my Gan!" Kristi says that Cody's grandmother, his "Gan," really is a super supporter. She's been to every Nationals, junior and senior high, that Cody has qualified for—until this year, when she stayed home in Louisiana to help take care of a new grandchild. There's always next year: Gan may get to watch Cody ride at the Professional Rodeo Cowboy Association Finals Rodeo soon.