Written by Barbara Newtown
Original Publish Date August 2015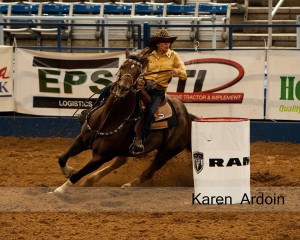 "This year is my year to come back with redemption," says Korie King, a barrel racer from Iowa, Louisiana, who is beginning eleventh grade. She's had her eye on the state barrel race finals since seventh grade, when she won the championship. But the next year she had the sort of accident that all horse people fear: her horse stumbled, her boot caught in the stirrup, and she was dragged. Not far, though, because her horse Sparky had been trained to stop if she felt any weight on her side. "Sparky's a great horse," says Korie. "I just cracked a bone in my ankle and had to wear a boot for a month." That fall put off Korie's hopes for a season. When she competed at the state level the next year, the magic wasn't working. This summer the magic came back: Korie is the 2015 Louisiana High School Rodeo Association champion in barrel racing.
Korie praises her horse Annie, her partner on the road to the championship. Annie was trained by Ms. Renee Cain of DeRidder, Louisiana. Annie is a dark chestnut Quarter Horse with an attitude. "She's a diva," says Korie. "That says it all. If it's not her way, it's the highway!" When Korie and Annie are waiting in the chute, ready to zoom, Annie gets pumped up. "She knows what to do. She puts her tail up and pokes her ears up and starts prancing." When they burst into the arena, Korie says, "It's all her. I pilot and she runs." Annie runs with purpose: she likes to go to the right first and she tries to leave room for Korie's knees as the pair swings around the barrels.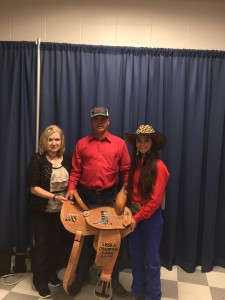 Korie has only had Annie for six months. She knew that she was getting a horse for her sixteenth birthday. The gift horse was supposed to be a Palomino named Taos, but he didn't work out. Her parents then found Annie. They knew what they were doing: Korie's mother was the state champion in goat tying and her father, a horseshoer, used to do a little bit of everything in rodeo. "He team roped, saddle bronc rode, and at pro rodeos he would do the buddy bro pick up." The buddy bro pick up is a real crowd pleaser: one cowboy stands on a barrel, the other cowboy gallops into the arena, and the barrel buddy jumps off the barrel onto the horse and hangs on to his bro as they race for the out gate with the clock ticking.
Korie's brother knows horses, too: he won the state championship in team roping. Her little sister, on her horse Choo Choo, loves barrels and poles. Korie's family shares barns and pastures and an arena with her uncle and her grandmother. "We own about ten acres and we have an arena. My grandma has about 20 acres and a barn that we use. My uncle lives on the other side of my grandma and has his own acreage and a barn, stalls, and an arena." And Korie takes care of fourteen horses.
The secret to Korie's success as a horsewoman and as a responsible young adult is home schooling. The freedom gives Korie time to ride. Her mother checks her school work, but since she works outside the home she's not around to tell Korie to get back to her books or finish her chores. Korie's grandmother is right next door, but she is occupied with her home-based business.   Korie has learned to "keep up with my stuff."
Korie says that she has ADHD and that it is hard for her to focus. "I'm good at school, but when it comes to taking a test I can't do it." Home schooling allows her to work and learn at her own pace. She says that she enjoys teaching the material to herself.
Korie understands what "regular" school is like. She attended Victory Baptist, a private school, for almost three years, and then moved on to the public school near her home. She began home schooling in ninth grade. She doesn't miss all the drama that goes on and that gets in the way of education. "I like being by myself," she says.
Korie is planning ahead: next year she hopes that they can breed Sparky and harvest eggs from Annie. And Korie has plans for her own future, too: she wants to go either to the Paul Mitchell cosmetology school in New Orleans or to the Stage One cosmetology school near her family's farms.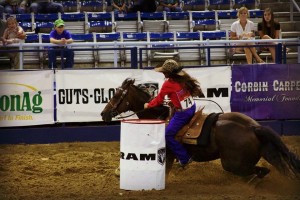 Barrel racing gives a young woman the right attitude. Korie says, "I just want to do well. I just want to go out there and have the best time that I can and do it to the best of my ability!"