Written by Barbara Newtown
Original Publish Date April 2015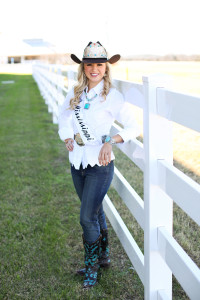 At the 2015 Dixie National Rodeo in Jackson, Mississippi, in mid-February, I spoke with Laura Sumrall, 23, of Summit, Mississippi, the 2014-2015 Mississippi Rodeo Queen. Laura is a member of the Texas A & M NCEA team and has been riding for 13 years in most Western disciplines, but her passion is reining.
"I love it," she says. "We reiners are 'rules' people, but we're not really strict." Reiners have markers where they are supposed to perform movements like rollbacks and sliding stops, but a reining competition allows a bit more freedom than dressage or Western dressage, where movements are supposed to happen right opposite a letter in a small arena. "You get to choose what fits you and your horse, rather than 'You have to do the spin right here!' Reiners have to execute everything 'on point,' but if you're going for a rundown and stop, you can take two or three or four strides past your marker, and decide when to 'pull the trigger'—when to slide to a stop." Laura says, "'Pulling the trigger' isn't really a technical term—it's a frame of mind." Reining horses love their jobs. If they don't love it, they aren't going to put forth the effort. "Doing the reining pattern is fun for the successful horses and reiners. If they don't love it, they're not going to make it in the sport. It takes training and effort, but in the end they've got to love it to succeed," she says.
Training and love are the keys to success. On March 28th Laura proved she had all the right keys on her equestrian key ring: at the SEC Championships in College Station, Texas, Laura scored 150, the highest reining total ever recorded in SEC competition.
When Laura enters the arena to ride a reining pattern, the first thing she does is take a big, deep breath and totally relax. "I do believe in that unspoken language that horses and people have together," she says. "The horses come in into the arena with their own frames of mind. It's really fun to feel horses say, 'Let's get this started!' On the other hand, one of my favorite show mares, when we'd have a walk-in pattern, she would walk in so slowly….if she'd walked in any more slowly, she would have gone backwards! You couldn't speed her up…she'd place one foot, then another, then another. Her attitude was, 'You're going to wait on me!' Then we'd get to the center, and she'd be ready to go. And I've had others that would trot all the way to the middle, they were so eager to get started."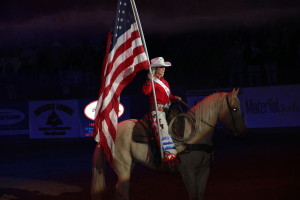 Laura explains that reining, in the real show world, is all one-handed, once you get past the snaffle bit stage. (In a bosal, you can use two hands.) At the upper levels, dressage and reining end up at the same place—signaling with the curb, using the spur not for punishment but for refinement, using the pressure of the outside rein, and keeping the aids subtle. To Laura, reiners are all about the horse being willfully guided through the pattern with no obvious cues from the rider. Your feet and hands may be telling the horse what to do next, but the spectators shouldn't see the rider up on the horse's neck, pulling the reins, flapping the feet. Dressage, too, at the highest levels, gives the impression that the rider is sitting still.
We discuss reining and dressage cues. Right lead, for Laura, means that her left leg is on and slightly back, and the right leg is off. In dressage, the right leg is on, at the girth, ready to supply energy to keep the canter coming through with the inside hind. The outside leg is slightly farther back, to hold the outside hindquarter. Laura says, "We reiners also keep the outside leg back. On some horses, we may need to bump with the inside leg to remind the horse to keep his shoulders up. When you change leads, it just depends on how your horse is trained and what they've learned from you. When you take off your outside leg, you open the door for the horse's new inside hind."
Laura credits trainer Sean Zimmerman with getting her off to a good start. She says, "I bounced around in the reining world a little bit, and eventually landed with Randy Schaffhauser of Jonesboro, Arkansas. I was about 14 when I began training with him, I stayed with him through college, and I still have horses with him and I will stay with him forever! I love him and his family. They took me in as their own. I'd stay with them during the summers and ride horses all day long. We had a group of kids, boys and girls, who'd stay with Randy's family in their big house, boys on one side, girls on the other. We lived at the barn, we fed, we rode, and we learned. He's a man of very few words, but he taught me respect for horses and respect for the people around you. When he speaks, you listen. I owe him and his wife a lot."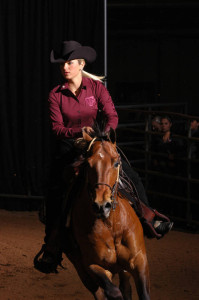 Laura also praises the NCEA competitions for tuning her riding skills. The human athletes are not allowed to ride their own horses. Host colleges provide the mounts, which are assigned randomly just minutes before the riders enter the arena. "Catch riding in the NCEA has really helped my horsemanship." Laura's reign as Mississippi Rodeo Queen is all about catch riding, too: before each evening rodeo performance, she gets on a strange horse, plants a pole with a huge American flag hanging from it in the leather carrier attached to her stirrup, and goes in…to booming music and wild cheers. "I walk in and run out, so it isn't too bad." she says. However, Laura says that she has a big challenge that will follow her all year: really short legs. She has to adjust every pair of stirrups she meets…and sometimes the stirrups just don't go up high enough. "But losing stirrups is just something that comes with the job. You get used to it!"
And Laura's riding skills have profited from her background in gymnastics and cheerleading. She has learned how to fall. "I prefer not to fall, but a little dirt don't hurt," she says.
The Sumrall family has no horse background. Laura says that her parents had no idea what they were getting into when they first put her up on a horse, "because I never got off." Laura's first mount was a pony. Family friends taught her what she needed to know. Soon she graduated to Beau's Tuff Lady, a big buckskin mare that had no talent for poles. "'Christy' was too hot for poles. Mostly we went bowling for poles!" But she was a great barrel horse with the ability to turn tight. In six or seven years of competing, Laura only hit three barrels. Christy wasn't very fast, but her turns and her determination to leave the barrels up were a winning combination. In 2003 Laura and Christy won the American Buckskin Registry Association World Championship in barrel racing. Christy was a beautiful buckskin: she had the standard black legs, mane, and tail, with gray finishing on the top of her mane and tail. In the summer, she'd get tan. In the winter she'd turn a light buttermilk color.
Laura has had some amazing horses. Her favorite Reiner is the mare Einstein's Fancy Pine. Her barn name is Smartie, because "she's the most intelligent horse we've ever come across!" Randy Schaffhauser said that Smartie kept him young, because every week he'd have to come up with a new training idea. Smartie figured things out fast and kept the humans thinking fast, too. Smartie is almost black and has absolutely no white anywhere. "When we were doing the vet check at the NAYRC, the vet said, 'Don't ever lose your mare, because she'd be really tough to identify.'"
Smartie retired in 2012, when Laura was in her freshman year at Texas A&M. Smartie is pregnant with her first baby, due any minute. She's bred to the Palomino reining star Hollywoodstinseltown.  "I just want a baby that's healthy and here," says Laura. (A little golden colt arrived on March 6th.)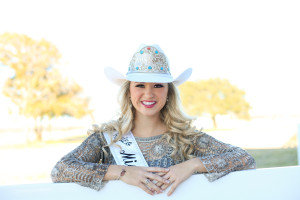 Laura's parents, Hiram and Dr. Dawn Sumrall, have embraced the horse life through their daughter. They own 20 acres on the outskirts of Summit and 400 acres near Liberty, Mississippi, where they have a pine plantation and space for retired horses. Hiram manages the farms. Dawn is an OB/GYN, which makes traveling to reining competitions in Oklahoma or Texas difficult to do, but, says Laura, "when Mom comes along, it's wonderful. She prepares feasts!" Most of the time, Laura and her dad do the hauling. "We drive, we sing road songs, we talk." A perfect father-daughter bonding.
Laura is grateful to her family, friends, and boyfriend, who all make a wonderful support crew. "I wouldn't be where I am now without their help. Some of my friends even skipped school to come to the Dixie Nationals with us! They're in the motorhome doing homework right now." Her boyfriend drove her to the Nationals from A & M. He is a cattle expert, and was enlisted to help with the livestock judging at the Dixie Nationals.
Laura is set to graduate in May with a major in Agricultural Communications and Journalism. She's eager to start work in the world of horse publications. In researching internship possibilities, she's become familiar with the variety of breeds and disciplines in the equine world. In the end, she says, we all care about healthy and happy horses, no matter what.