Written by Louisiana Equine Report Staff Writer
Original Publish Date April 2015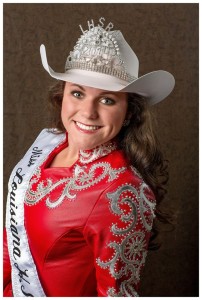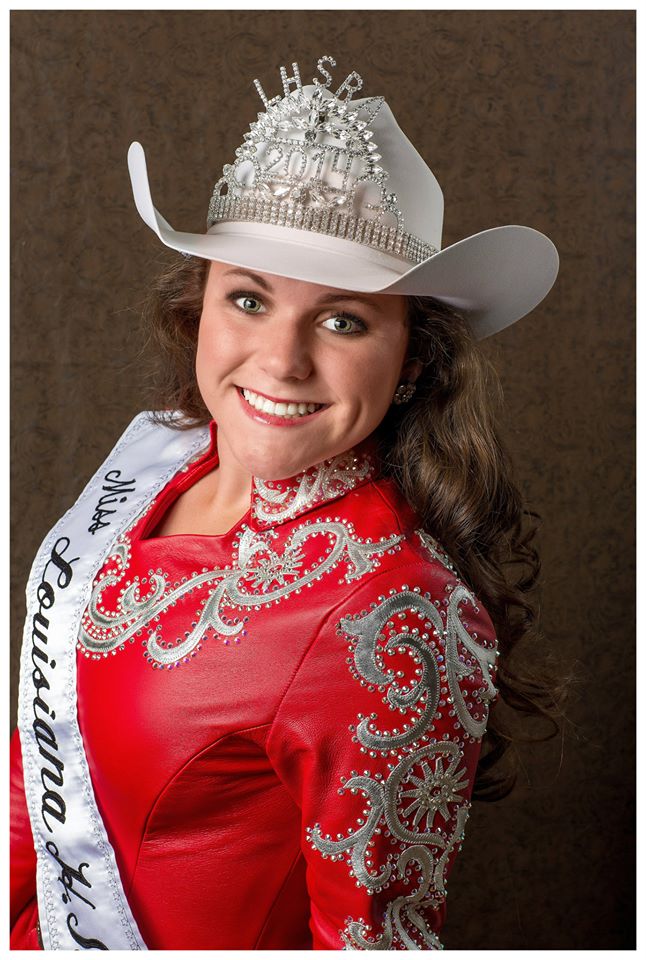 Kayli Meaux, the 2014/15 Louisiana High School Rodeo Association Queen, is a senior at Lake Arthur High School. Her family includes her parents Kim and Paul and her brothers Paul and Steven. She competes in breakaway roping, goat tying, and barrel racing. She plans to join the rodeo team at McNeese State University, where she will prepare for pharmacy school at the University of Louisiana at Monroe.
How did you get started with horses?
I began competing when I was six years old at a small riders club near my hometown. I walked and trotted the pattern and thought I was good enough for the NFR at only age six. I soon started to learn more and improve every day. Even now I still learn and improve every day. The key to my success was to never give up.
Our house sits on a few acres of waterfront property. Since we live on the lake, horses are not allowed to live in our backyard. My parents had bought a rice farm down the road from the house that had a barbed wire fence and a small barn that was filled with junk. Eventually my parents saw my love for horses, so we cleaned up the barn and built three stalls. I thought I was in heaven. I was so happy riding my four-wheeler down the old gravel road to go feed my horse and clean stalls. Still today I have that same barn and that same farm–just today it is occupied with six horses and three miniature donkeys.
What was it like to become Queen?
When I was standing in the middle of the arena holding hands with the other contestants, waiting for the new Queen's name to be called out, my heart was racing. When I heard my own name, my whole body relaxed and I took a deep breath. I stepped forward and I heard my whole family shout and cheer. After I received my crown and banner and mounted my horse for my victory lap, I wanted to give my mother and father an enormous hug and thank them for believing in me when others didn't. As I rode around the arena with my court behind me, I thanked God for letting me have that moment. I opened my eyes and thanked him for the ride of my life that was about to happen.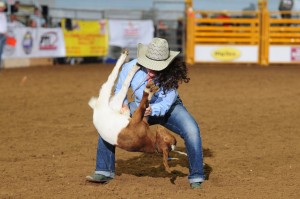 Is there a Rodeo Queen that you especially admire?
Chenae Shiner is my favorite rodeo queen. She was Miss Rodeo America in 2013. She inspired me to stand out and be different, even if it meant taking a chance. She brought a whole new "style" to the rodeo queen world. She was not afraid to step out of the "Assumed Standards" and be herself.
Who is your hero?
My hero would have to be my big brother Steven. He might not be there all the time, but whenever I need him he will be in his car headed my way as fast as the speed limit will allow. He is my hero because he is so protective of me. When he moved out to go to college, he said that he would always be my big brother no matter where he is. Nothing can ever change that. He will always be my big brother, no matter how much we fight!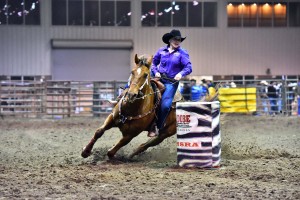 Also, I honestly do not think I could live without my best friend. We have been best friends since we first started to rodeo together at the little family-oriented riders club near my hometown. We don't live close to another, so that means we don't get to see each other very much, but even though we don't get to talk in person every day like most best friends do, we still remain best friends.
Describe yourself.
If I could describe myself in one word, it would be "Gumbo." I know it's not a descriptive word but it is impossible to describe me in one word. I am so much more than just one word; I am a lot of different things thrown together to make something great. I have determination, love, kindness, motivation, energy, and I am hard-working, smart, and so much more. So just like gumbo, I am all thrown together to make something many people like.
The color red also describes me. Red is a bold color and represents confidence. Red is a color that will stand out in a crowd. I am confident and, like red, I like to stand out in a crowd!
Besides rodeo, I enjoy hunting, reading, and going out on the lake on my boat and jet skis. I like to sit in my deer stand and read a book because it's so quiet and peaceful. The only thing that can interrupt my reading in the deer stand is a nice size buck!
I love to read books of any genre, but once I fall in love with a book, I'm hooked. I can't stop thinking about the story line. When I'm reading a good book I get lost in the story and for that moment it is like I am actually there.
If I'm not in the practice pen or on the road to a rodeo, you can most likely find me at work at my father's pharmacy or on the lake with my friends in the summer. During the school year you can find me in my room studying when I'm not on the back of my horse.
Many people inspire me and push me to better myself, but the one person who pushes me the hardest is myself. I am hardest on myself and always want to improve. I am self-motivated, but it doesn't hurt to have a little push from friends and family!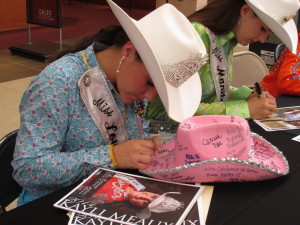 Plans for the future?
I plan to graduate from ULM with a degree in pharmacy and move back to my hometown, so I can work alongside my father in his pharmacy until he retires. I hope to start a family when I'm older and introduce my family to the great sport of rodeo and for them to have the same opportunities that I had growing up.
I want to be remembered as the young lady that had that biggest heart and wanted to succeed as bad as she wanted to breathe.
Thank you, Kayli!