Written by Susan Morris
Original Publish Date March 2014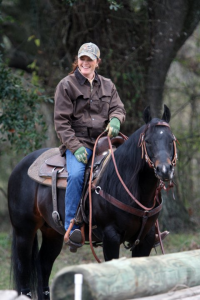 My name is Susan Morris, and I live in a small rural area on the outskirts of Zachary, Louisiana. My love for horses started at a very young age. I began my horsemanship journey with riding lessons at the age of five. Since then, I've developed my skills with many trainers. Currently I'm studying and participating in the Chris Cox Horsemanship program. I have competed in English, Reining, Cutting, Working Cow Horse, Pleasure, and Trail, along with obstacle challenges and other speed events.
Participating in all these disciplines has allowed me to become an all-around better horseman. To name one of my favorite things to do on a horse would be impossible. My love for the development of a well-rounded horse combines all aspects of riding into a one-on-one connection between rider and horse.
Ten years ago, a small, frail, injured black stallion entered my life. From the moment I saw him, I knew he was special and that we would have a purpose in each other's lives. This stallion was given the name Instant Cuttin Cat and his barn name became Cajun. He was an own son of Sr Instant Choice out of a own daughter of Hidas Lil Pep. These bloodlines are performance bred horses with great minds and abilities. Little did I know how much impact this horse would have on my life. The horse I set out to save … in fact saved ME.
You see, shortly after Cajun's arrival, my life changed due to the tragic loss of my fifteen year old son. I was as broken as the horse I set out to save, but though the grace of God, Cajun and I found comfort in healing each other. With much needed physical healing for Cajun and emotional healing for myself, we both knew it was time for a new beginning. Cajun started showing in the Louisiana Stock Horse Association, and we took up Extreme Cowboy Racing, which is a speed and obstacle challenge competition.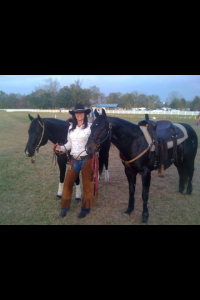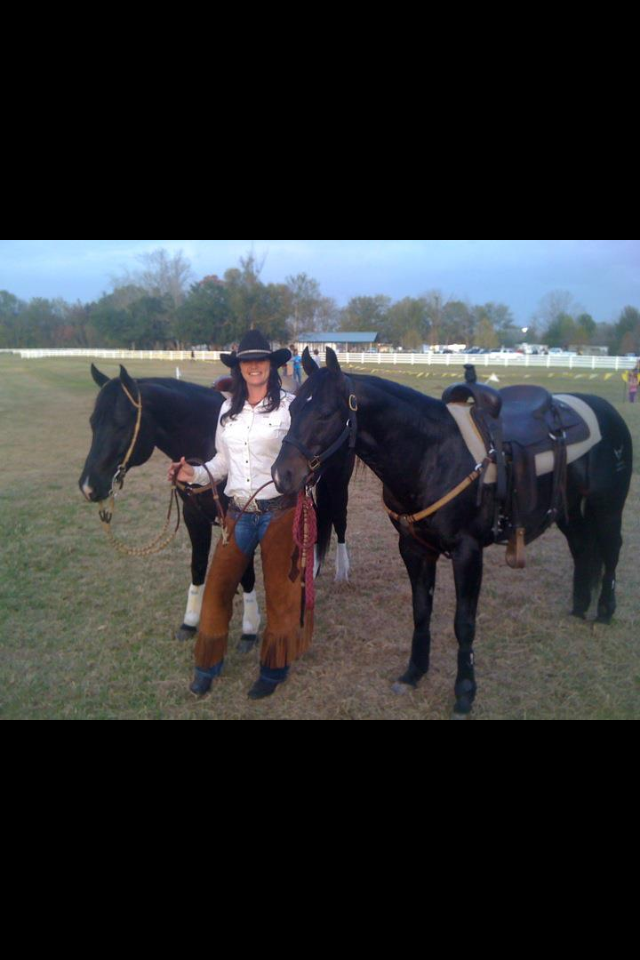 The very first show season, we won Regional, LA State, and World titles in EXCA. In LASH we won two Reserve titles in cutting and reining. We also placed very high in ranch pleasure, trail, and working cow horse for the end of the year. Continuing on with EXCA led us to more regional titles and a fourth and a fifth World placing. Then, in 2011, we won our second EXCA World Title. The thrill and excitement of winning the second World Title was by far one of my proudest moments as horseman. With little reining and no use of hands I found out what it meant to have a real connection between horse and rider. That bond was an overwhelming sense of love, loyalty, freedom and trust between Cajun and myself. God's blessing to us was to find strength in the Lord, and to tell and show the World that through tough times all things are possible through Him.
As a proud champion, Cajun never gave any less than his best. You see, the vets said Cajun would never have a show career because of the injuries he had. God said, "It is not over," and allowed this horse to heal.
Cajun's championship blood runs strong. Cajun produced a son we call Joker, also a black stallion. Joker is like a mirror image of his father. Joker has also won a World Championship and shows the same loyalty, honor and love as his father.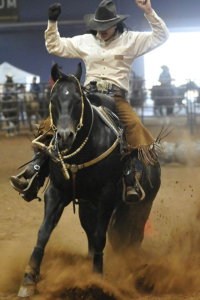 On March 24, 2014, at the age of fifteen, Cajun succumbed to a sudden and deadly illness. The day he passed away, he still had the same determination and honor in his eyes. Our time here together is complete, but he has left changed and strengthened hearts. He has also left another generation to carry on. I carry his memory proudly and I'm honored to have had the opportunity to carry on his legend. He is gone, but he will live forever in my heart and my soul.