Written by Barbara Newtown
Original Publish Date December 2014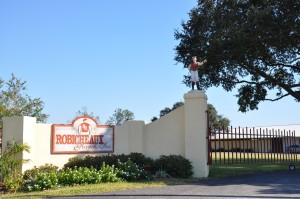 "I showed halter from age 9 to age 18," says Ryan Robicheaux, as we stroll down the aisle in the stallion barn of Robicheaux Ranch in Breaux Bridge, Louisiana. The stallions are nationally ranked racing Quarter Horses. "Show horses are nice—you win a ribbon—but with race horses you win money!" He grins at me and says: "We do have some halter babies that will be born here. I can't get it out of my daddy, you know!"
Jude Robicheaux, father of Ryan, started out as a plumber who raised and showed halter horses on the side. Even though he stood a halter stallion, he still didn't make any money at it. Pat Ladner convinced him that there was money indeed in racehorse breeding and helped start Jude's new breeding business off with the stallion Lightning Casanova. Jude and his friend Jud Griffin teamed up together as Shoestring Stud Farm. The land they bought eventually formed part of Robicheaux Ranch.
Jude is indebted to Jud for teaching him how to run a horse business. "He taught me about keeping books, keeping health records," Jude says. Eventually Jud wanted to retire, and the partners sold Shoestring. Jude went to work for L-J Farms in Alexandria. Ryan got interested in prepping yearlings for sale, and he leased the Shoestring property from its new owner. Jude decided to return home and be his own boss. He re-bought Shoestring in 1999 and has been adding acreage over the years, bringing the total almost up to 100 acres.
Jude and Ryan have turned a passion for great conformation and superb prep, legacies of their interest in halter, into a savvy method for producing future money winners. The first ingredient, of course, is quality semen. Robicheaux Ranch, Inc., stands nine stallions, most with Dash for Cash somewhere in their bloodlines. The stallions range from established talent like 16-year-old Game Patriot, whose 2012 yearling auction fees averaged 3x the stud fee, to newcomers like stakes winner Fast Prize Jordan, just retired from racing, who boasts PYC Paint Your Wagon and Mr Jess Perry close up in his pedigree.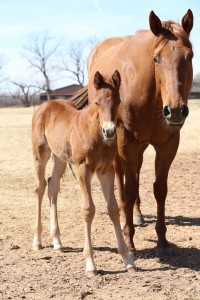 The Robicheaux family does much more than stand some fancy stallions. Robicheaux Ranch Reproductive Services is a state-of-the-art facility for all aspects of equine breeding: artificial insemination with fresh and frozen semen, stallion training and handling, on-site laboratory, eighty on-site recipient mares for embryo transfer, specialized care for newborn foals, and management of sub-fertile mares. The ranch is a USDA-approved site for freezing semen. The ranch breeds 600-800 mares a year. Phillip DeVille, DVM, is the attending veterinarian.
Jude and his wife Regina live on the ranch, and they and a night watchman do foal watch. Ryan, his wife Danielle, and their three daughters live close enough for Ryan to help with foaling, too. Regina also handles the office chores, which can be complicated during semen-shipping season.
Louisiana has been good to breeders. "If you own a mare and breed to a stallion in Louisiana, and you bring that yearling to a sale, and I buy it—well, I'm going to pay the training bill, pay the vet bill, pay the futurity payments. If that horse runs first, second, third, in any race in Louisiana, you get twenty-five percent of the purse, because you're the breeder!" Ryan laughs. "It's called breeders awards, but we call it mailbox money! Say the horse made $20,000, a month later you get a check for $5,000. I sit on the board of directors of the Louisiana Quarter Horse Breeders Association, and for two years now we've had a million-dollar race, and that breeder walks away with a check for over $100,000 for winning one race." Because of the Louisiana breeder incentives, Robicheaux Ranch is home to a number of broodmares whose owners actually live in Texas, Florida, or other states surrounding Louisiana.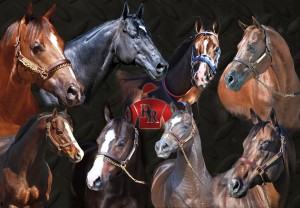 Ryan stops in front of a stall containing Heza Fast Dash, a gorgeous dark bay out of First Prize Dash, an AQHA Mare of Distinction. Heza Fast Dash's son Ol Time Preacher Man won the 400-yard $1,000,000 LQHBA Breeders Futurity at Evangeline Downs on November 16. "Robicheaux Ranch stallions took home $903,000 of the one mil. It was a great night!" says Ryan.
"We hope Heza Fast Dash ends the year as the number one stallion," says Ryan. He considers the horse's conformation as it relates to the distance he ran best at: 300 yards. "He's not big, but he's well put together. He crosses well with Thoroughbred mares, too; those offspring are some of his best earners. He puts on the body and bulk, the mares put on height and leg."
Heza Fast Dash has short cannon bones and a great topline. His neck ties in high on the withers, his throatlatch is clean, and his shoulder is long and well-slanted. Ryan says, "I like a horse who ties into his shoulder real high. I want his withers to sit way back. The more the slope to his shoulder, the more his front feet can get in front of him. How far can his legs go if his shoulder is straight? D. Wayne Lucas"—the legendary Thoroughbred trainer—"says that the neck is the first thing he looks at. That's the horse's balance."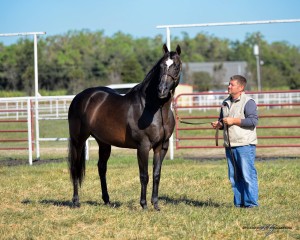 The Robicheaux stallion barn is a symphony of beautiful neck conformation and good-looking toplines. There is also lots of muscle. (My eye is used to the marathon-runner physique of classic-distance Thoroughbreds and the uphill design of modern warmbloods; the bulky, short-twitch muscling of horses designed to go all-out for a few seconds makes my eyes bug out.)
Swinging Jess, a chestnut stakes-winning son of Mr Jess Perry, chews on his blanket while we talk. Ryan signals to his barn man to take it off of the horse, and I realize the man is deaf.
"Is that American Sign Language?" I ask.
"No, ma'am," Ryan says. "He's been with me years, and we manage." Ryan is proud of the people he has hired. "They work for me on ten-month visas," he says. "They go home to Mexico for November and December." These 10-month employees have been with Robicheaux Ranch for over eight years. A skeleton crew of five, down from fifteen, stays at the ranch during those two months. That time is slack: the sales are mostly over, breeding hasn't started yet, and…it's hunting season. (Ryan had been duck hunting the morning of my tour of the ranch.)
"We're putting a little Thoroughbred on Swinging Jess," says Ryan. "Crossing with Thoroughbreds works so well with Heza Fast Dash that we're looking for the same build with Jess," says Ryan.
I ask, "How tall is he? Sixteen hands?"
"Oh, no, he's 15.1! He's got so much muscle, he's deceiving."
We admire Jet Black Patriot, a wonderfully muscled son of Game Patriot. Jet Black, another LQHBA Futurity winner, made over $800,000 as a two-year-old. "The other stallions, we work them, swim them; but Jet Black is a natural-born athlete. He's like a guy who plays pro football on Sunday and never works out. I could work out every day and never look like that!" says Ryan. I notice how wide Jet Black is between his forelegs, and how his back seems longer than his daddy's. "That's right," says Ryan. "He's a little longer; he went 440 yards, because he can stretch more."
Jet Black Patriot is a true miracle. He had joint ill (caused by infection that gets in via the umbilicus) and the veterinarians at LSU had just about given up on him. But, says Ryan, the horse's owners did everything they could for Jet Black and their support paid off. "Now look where he is!"
By this time on our tour I am curious about the Robicheaux method for putting on muscle and glossy coats.
"We feed Purina Strategy," says Ryan. Sometimes they add Amplify, which is 30% fat. "And there's good old corn oil. A couple of ounces, morning and night, and they put on weight. And alfalfa is key."
Since Robicheaux Ranch prepares young horses for sales, not for races, they achieve fitness with a hot walker and a swimming pool. In fact, when Jude and Jud first acquired the acreage for their racehorse breeding business, they took out the practice track to make room for more paddocks. When Jud retired and they sold the place, the new owners put the track back in. And when Jude purchased again, they removed the track again!
The swimming pool is simple. 14 feet deep and 140 feet long, it is dug out in a V-shape from side to side. Clay keeps the water from seeping out too much. The entrance to the water is gradual, with pipe railings that help keep the horse straight as it goes in. "In the summer we dye the water blue," Ryan says. The horse wears a halter with a swivel out in front, with two longe lines attached that go out to a person on each side. Ryan points out that not all horses can swim. "You have to be careful, ready to pull them out to the side," he says. A first-timer who can figure out how to swim might manage the 140-foot distance only once. By sale time, a yearling can get there and back four times. Best of all, you can work a horse in the afternoon of the hottest day of the year. Sales prep never has to stop, even in August.
"Not every horse is the same," says Ryan. At Robicheaux the proportions of feed and exercise are adjusted to get the best result. "You don't want to feed them a lot and then take it all off with too much exercise!"
Sales prep takes ninety days. Every two weeks every horse in the sales prep program is haltered, taken out to the ranch front yard under the oak trees, stood up, and jogged by the staff. Jude and Ryan, armed with notes and statistics, examine each horse critically and adjust proportions of feed and exercise to ensure that health and muscling will be at their peak when the sale takes place. Owners often attend the bi-weekly eyeball session.
At Robicheaux Ranch, the young sales prospects are handled so much that they have excellent manners. They know that humans know best. When it is time to leave for the sale, the yearlings step quietly onto the trailer—without any trailer breaking. "I've never trailer-trained a horse," says Ryan. "They just get right on."
We admire the oak trees in the front yard. "That's where Oak Tree Special is buried," Ryan says. "His halter's hanging on the wall in the stallion barn." Oak Tree Special (Special Task – Easy Lady Oak) was a brown/black 2000 stallion, having success with his stud career after a stellar three-year-old year on the track: World Champion Racing American Quarter Horse, AQHA Racing Champion Three-year-old. For two years Jude and Ryan collected Oak Tree Special on the ground, without a mount, to spare the horse's stifles. Eventually he became too sore, and they had to put him down.
I look around at the pretty yard, the neat-as-a-pin fence lines and buildings, and imagine the short-distance winners of tomorrow parading in front of Jude and Ryan and Oak Tree Special.