By Barbara Newtown and Kristi Milazzo.
On September 3, 2016, Trey Ellis won the title of Leading Trainer at the Quarter Horse race meet at the New Orleans Fair Grounds.  Everything came together:  two-year-old horses in his string that were a bit immature during the earlier Delta Downs meet proved to be stronger and faster when they showed up at the Fair Grounds.   As Trey said, "Everybody ran fair at Delta, but the majority ran pretty good at the Fair Grounds!"  His horses finished 80% in the money and their count of 11 wins was the number that propelled Trey into the top spot.  He was a bit surprised by the group effort.  "I had multiple horses that came up and ran better races in New Orleans than I expected, because they hadn't done too good throughout the Delta meet."
Two-year-old Mr Tee Cos (Tee Cos – Dashing Danali, by Dashing Val) is the exception to the "maturity" gap Trey dealt with at Delta.  As of September, Mr Tee Cos has had four starts and four wins and three of those wins happened at Delta Downs.  In New Orleans, the colt kept his momentum, captured the $40,000 De Saix Stakes, and helped Trey's barn end the meet in style.  "That was my most satisfying race," said Trey.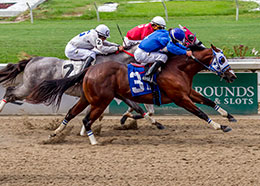 Trey praised his team at Ellis Racing Stables. "Leading Trainer is a good accomplishment for any trainer.  It shows that our program is working well.  Between me and the jockey and the grooms and the shoers, everything is just clicking.  The hard work we put in pays off!"
Photos:
youtube.com (Trey Ellis and Mr Tee Cos)
Lou Hodges Photography (Mr Tee Cos winning the De Saix Stakes)