Original Publish Date February 2014.
Chele McGauly, a four-A AQHA judge, stands stallions, trains, and teaches in Elm Grove, Louisiana, in the northwest corner of the state. She grew up in New Orleans, where from age eight until after high school she worked at Crescent Riding Academy, a hunter-jumper barn and rental stable in City Park. Chele gave pony rides and trail rides. She also rode clients' horses before they did, to take the edge off, and she schooled horses off the track to get them ready to become jumpers. "They only knew how to go straight. No turns, no stops, no leg pressure!" says Chele. She also trained horses for the New Orleans Police Department.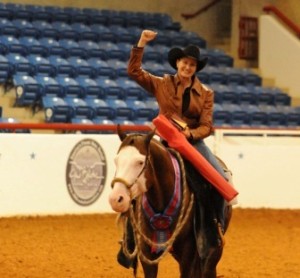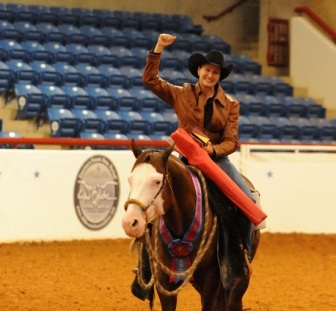 Chele remembers her days in City Park with fondness and humor. "We grew up rough. We'd jump picnic tables bareback, and when we got good, we'd jump them backwards! You turn around, reach behind you and grab mane, and jump until you stop falling off." She says, "I feel for the younger generations coming up, who have made friends with their computers and not with an animal that has a brain. They're missing out on the work ethic; they're missing out on the adventure…"
Chele always knew she'd be a horse trainer. She wasn't sure which discipline she'd do. "Yes, I was a pretty green kid, and I was told many times, 'No, there's no way you're going to be a horse trainer; you're just a kid riding horses.' But if you set your mind to it, work hard, don't listen to the bad, and believe in yourself, you can make your own luck."
After City Park, Chele went to work for Red Benoit, in Covington. He gave her the foundation of her Western training. His work ethic, says Chele, is the best she's seen, and he is honest and good. "As long as I worked hard, it didn't matter what classes I showed the horses in." The variety of experiences she gained while working for Red was essential to her career.
After working for Red for ten years, Chele married a North Louisianan. Unfortunately the marriage didn't last, but Chele's commitment to the northern end of the state did. She bought her 24-acre Elm Grove place in 1995, not long after the divorce. Since then she has renovated two horse barns, and built a covered arena, a hay barn, trailer barns, and paddocks. Her neighbors are veterinarians, Ronnie Powers and his wife Dr. Susan Bradley. The Powers and Chele run grazing cattle on the land behind her place, and the arrangement is working well. "Ronnie is one of my very best friends—a really great man," she says.
Chele took some time off from her Elm Grove project to continue her education. In 2000 she moved to California to work for Sandy Collier, a trainer based in Buellton, an hour north of Santa Barbara. Sandy's specialty is working cow horse.
These days Chele works with Carl Ray Nicholas to help her with cutting techniques. "He comes often," says Chele. "He showed Appaloosas on a national level almost all his life. He's in his seventies now and going strong. He's an extremely interesting man—he was a pro basketball player! He has helped me with all of my horsemanship, not just the cutting."
Since becoming a Quarter Horse judge, Chele says she has been blessed to work with some of the best horsemen and horsewomen in the world. "I got my Quarter Horse judge's card in 1995, and from that point forward, I've been able to meet people I normally never would have met, being from this area. They make you up your game, and it is an inspiration."
Chele now has cards for National Reined Cow Horse Association, American Paint Horse Association, the National ,Snaffle Bit Association, and, of course, the AQHA. Her judging experiences have taken her around the world, from Canada and Mexico to Australia, Japan, Germany, Italy, France, the Netherlands, and Belgium. One of her favorite experiences took place in Buenos Aires, Argentina. After the show she did a clinic with two very different crowds: the regular show types and some tough cowboys who had shown up for the criollo cattle show. (Criollo people, criollo horses, and criollo cattle are all hardy, long-lived, intelligent descendants of the first Spanish arrivals in the New World.) Both groups found themselves united in their desire to learn as much as possible from Chele—especially how to teach a horse to spin and stop correctly for reining. "They really enjoyed the clinic!" says Chele.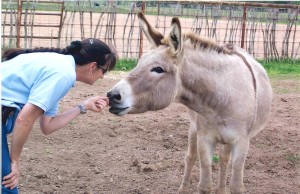 "I'm so fortunate to have judged the National Quarter Horse Congress," she says. "And I love to judge the Youth World, because the kids are so talented. Open World is thrilling, because you see the very best of the very best. With Amateur and Novice, you see the newness and the excitement. They're starting their adventure, and it's great to be a part of that." She confesses that seeing the bond between a person and a horse can bring her to tears. "That's why we do this. A horse loves purely. They don't have revenge or deceit, and they forgive more quickly than a person does."
"Many of my clients raise their own horses. They can't buy a hundred-thousand-dollar horse to train. You have to learn how to make the best horse out of what you have." Chele says that horse shows are a test of what you've been working on at home. Everyone likes to win. But the journey is what's important, not the prize. "That's the stuff we remember when we're in a nursing home. The blood, sweat, and tears are what make the ribbon special." Chele believes that her duty as a trainer is much larger than just teaching maneuvers to a horse and rider. "It's teaching kindness, respect, work ethic…" She has students who are over fifty years old, and just being with their horses is a huge part of their lives. "They enjoy their horses, and get out in the sunshine!"
"This is a hard business if you're in it for the money," says Chele. The terrible economy has challenged the horse world. "Those of us who have managed to stay in it are not thriving; we're just treading water." Breeders suffer, because there is no market for weanlings and yearlings. There is a market for trained horses, but it takes so much time and effort to get a horse to that point. When prices are depressed, trainers are trapped, too.
Nevertheless, Chele believes that if you put in the time, do the work, and are kind to the horses and honest with clients, you can survive, even in a tough economy. The connection between humans and equines is timeless and there will always be people who cannot imagine life without horses. Most important, whatever negativity you may feel about the economy, your clients, or the horse you are on, you must stay positive. "I believe you can make a choice to look for the good you can do for each person, each horse, and yourself when you wake up in the morning. Especially stay positive when training horses! They don't respond well to negativity."
During the interview Chele and I (your LA Equine Journal reporter) sit on a park bench in the sunshine, all bundled up against the Polar Vortex wind chill. Her barn man rumbles back and forth with the manure wheelbarrow, and behind us we can hear the horse shoer hammering. A few feet away a loaded hot walker slowly churns, stopping every now and then when a palomino two-year-old loses her concentration. Chele casually holds the reins of a tacked-up palomino stallion. He's good as gold, waiting quietly for whatever comes next in his life.
"This is Chex Gold Seeker, son of Vibrant Chex," says Chele. Many of the horses on her place are offspring of Vibrant Chex. "I bought Vibrant Chex, a buckskin by Nu Chex to Cash, when he was coming a yearling, from Charlie Hutton." Chele trained and showed him, and he was a success in the show pen and the breeding barn. He died too soon, at age ten, when he broke his neck during turnout. "Vibrant Chex was a pivotal horse for me. He upped my game in training and showing. A phenomenal horse."
We watch a roan mare on the hot walker. She's busy nibbling the lead rope and, when playing with the lead rope gets tiresome, she sticks her tongue out, flaps it around, sticks it out the other side, and flaps it some more.
"Is the tongue a problem in training?" I ask.
"No," says Chele. "She's just bored." Chele says that the mare, by Peptoboonsmal, is one of her favorites. "She's always coming up with games. She's extremely bright. That probably got her into trouble in her earlier life. We get along.   Such a talent—but she makes you work for it!"
"Like everyone else," says Chele, "I'm a sucker for a pretty face." But Chele is more interested in a horse's balance—his ability to carry himself. "As a rule, a horse will be aesthetically pleasing if he's balanced."
We talk about teaching the flying change. Chele teaches counter canter first. When the horse has the body control to do a good counter canter, she allows the horse to change leads. The change becomes the solution to a problem. "Most of the time, they're tickled to death to change leads!" Flying changes become part of the lesson plan when a horse is only three years old. "It's a natural movement; they do it in the field," says Chele.
She says, "Remember—you aren't 'loping on the wrong lead,' you're holding the front end up." Changing leads is about holding the shoulders straight and upright and allowing the hip to move over. The front end follows. "Hold the front end, gently apply outside leg, and they will change hind end first."
Chele hands Chex Gold Seeker to her shoer and invites me to watch her teach Lynn Thomas, from Benton, Louisiana. Lynn is riding Mouse, another son of Vibrant Chex.
First Lynn and Chele work on Mouse's flying change. The pattern is fast and large circle, small and slow circle, fast and large again, then straighten and ask for the change. Mouse's change is incomplete: the hind legs didn't switch leads.
"You leaned," says Chele. "Just keep yourself upright and move his hip over." They try again, and Mouse doesn't listen. Chele asks Lynn to halt. They practice turn on the forehand: the horse should keep his front legs in one spot and move his hindquarters away from the rider's leg. Mouse moves his front legs off the spot, and Chele says, "Hold the front end up and don't lean in the direction you want to go. If you lean you throw him off his game." They try again, and the turn is perfect.
"Now try it walking forward into the turn," Chele says. Mouse's hindquarters move around his marching front legs, and he's back on the track, walking in the opposite direction. Perfect, again. "You can do all your flying change prep at the walk, if necessary," says Chele.
Lynn and Mouse go back to the lope and their changes are great. Chele does some fine-tuning: "Lynn, keep looking to the inside until you want the change. He's anticipating your cue." Mouse listens, and the changes now happen just when Lynn wants them. "Make sure you're paying attention to every little aspect. You can practice and practice and practice, but if you aren't practicing correctly, you won't improve."
They move on to spins. Mouse likes to spin with his head low, but Chele doesn't try to change him. Chele tells Lynn that, when she brings her reins across at the start of the spin, she has to make sure she doesn't pull up on the reins and ruin Mouse's speed.
Once a horse gets spinning, one of the worst things, says Chele, is to ask him to stop when he's slowing down. "Always quit when he's speeding up."
Mouse doesn't speed up, even though Lynn is sitting straight and turning her head an eighth to a quarter of a circle ahead of her horse. Chele and Lynn agree that Mouse is being a bonehead. He's sticking his ribcage into her cuing leg. It's a combination of willfulness and physics: a horse can't spin if his body is crooked. "Get his body straight and he will speed up." Lynn straightens him, asks for the spin, and quits as Mouse starts to accelerate in response to her leg. "He gave you a good response," says Chele. "We will wait a moment before we go again." Mouse relaxes, still and happy.
They move on to sliding stops. First, Lynn and Mouse practice backing up. Then Chele asks her to "fence" him once each way. For me, someone who breeds jumpers and eventing horses, this exercise is scary: Lynn and Mouse gallop down to the arena fence and Lynn lets the fence set Mouse back on his hindquarters.
"Keep your head up, keep your legs in front of you!" yells Chele. (Lynn and Mouse have stopped at the far end of the arena.) "Your reins can't be too long—you have to control where he's going."
Chele asks Lynn to gallop back and do a sliding stop in front of us. "Remember—it's all in the rundown. If we lean forward, we push them downhill and they can't stop unless their shoulders are up. Keep increasing speed—then your stop will be good. And you should be looking up at the roof of the barn all the way up to your—" (Chele spells the magic word, so that Mouse is in the dark) — "w-h-o-a!"
Lynn and Mouse gallop towards us, faster and faster. She sits straight, eyes up, holding Mouse on the line. Then the pair "whoas" and cuts two parallel lines in the sand and sends arena dust swirling up into the Polar Vortex. We all grin and Lynn gives Mouse a pat.
I race home after the interview. "I just saw the greatest dressage lesson!" I say to my husband.
Thank you, Chele McGauly.