Written by Barbara Newtown
Original Publish Date April 2014
Kori and John Schexnayder manage Honey Do Farms in Church Point, LA. They do everything, it seems: breeding race horses, breaking and training, riding lessons, barrel racing, sales prep, riding camp, medical lay-ups, even birthday parties.
"We opened to the public two years ago," says Kori. Enrolment in the riding camp has exploded: open for four weeks two years ago, the camp now is in session for nine weeks. "I can't bear to turn anyone away!" says Kori.
Although Kori doesn't have children of her own, she was born and raised around children. "My grandparents own Fisher's Early Childhood Development Center, the oldest child development center in Lafayette." They believe that early intervention is key to a child's success. Kori continues their philosophies in her riding instruction: she likes to start training children to ride at age four. "My youngest client is three," says Kori. "She and her brother, who is nine, are autistic." At first, the siblings were stuck in their shells; now they're jumping out of their car seats when they get to Honey Do. They've learned how to praise and pat a horse when it does what they want—a lesson that any good rider should live by.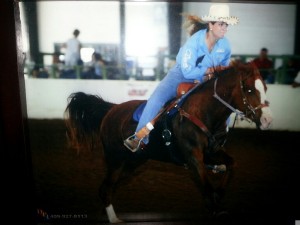 When students arrive at Honey Do, they check the board to see which school horse they are riding. (Kori insists that everyone should get used to riding different horses.) The students are responsible for catching their mounts, grooming, and tacking up, and for taking care of the horses after the lessons. (The littlest and least able students do get some help.) Kori supplies all tack, cleaning gear, and helmets; students just have to come prepared in jeans and boots. At the end of every lesson, even adult lessons, the student must go "around the world": using legs only, with arms out to the side, the student turns 360 degrees around on the saddle. Although Kori specializes in Western riding, she believes that balance is the foundation for any style of riding. "I teach them to avoid the eject button—the flank!" says Kori. "And no one gets away with not doing 'around the world,' even if they're forty-seven."
Kori's school horses are mostly Quarter Horses.
Beau, a 12-year-old palomino gelding, was a rescue horse. "He's a phenomenal teacher," says Kori. "He can go from babysitting a three-year-old child to winning a barrel race. He was my competition horse."
Little Bit is a 10-year-old palomino mare. She's at her best when she's teaching walk and trot to young students. "She knows they're little guys. She gets annoyed if older kids pull on her mouth."
Puddin is an 8-year-old black and white paint. She can teach walk, trot, and lope to all ages.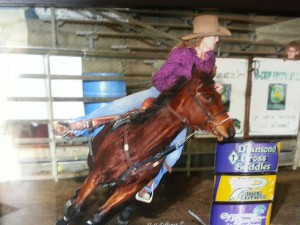 Honey, a 6-year-old bay, was the first baby born on Honey Do Farms. She's reserved for advanced students. "She's my current competition horse," says Kori. "She gets aggravated with the little ones. She wants a job to do when she gets in the pen."
Talla is an 11-year-old bay. She's owned by one of Kori's friends, "and goes back and forth between houses." She stays at Honey Do for two months in the summer to help out with camp.
At present Kori and John, with their breeding and training activities, don't have room to board student horses. When her kids get to be dedicated and knowledgeable enough to own a horse, they move to other barns. Kori does meet up with them at shows, however. In the future, Honey Do Farms hopes to add a boarder's barn.
The non-equine residents of Honey Do Farms include pigs Wanda and Wilma, Woody the cockatoo, the ferrets Boo Boo and Rascal, the inside dogs Emmy (a pregnant Doberman) and Jillian (a miniature Schnauzer), the outside dogs Johnette and Renegade (German shepherds), five cats, a squirrel, and "a ton of chickens." The outside dogs have an important job: keeping possums out of the egg room. Riding students love to hunt for eggs after their lessons.
The main part of Honey Do Farms is 14 acres. The arena is 100' by 200' and, Kori hopes, will someday be covered. The farm also has a sixty-foot round pen, a forty-foot round pen, and a walk wheel. Paddocks house yearlings and two-year-olds. Kori and John board four horses at any given time for breaking and training.
John and Kori also own 70 acres nearby, where they harvest square and round bales and keep eleven broodmares.
Kori grew up a city girl in Lafayette. After high school she became a cosmetologist. In 1999 she married John, who was the son of sharecroppers, and who had grown up with horses. Kori had always loved animals, but after marrying John that love kicked into high gear. She went back to college in 2003 at the University of Louisiana at Lafayette and graduated in 2006 with a B.S. in Animal Science. She became an adrenaline junkie: a barrel racer. "My best win was the World Barrel Racing Finals in Waco, Texas. I rode He's Cash Happy, who's related to Dash for Cash and Rocket Wrangler. I won a belt buckle, a saddle, and tack out of the wazoo!"
In 2008 Kori's grandmother had a stroke. She is confined to a wheelchair and needs 24-hour care. Kori made up her mind to give up "the road" and stay close to home teaching, training, and breeding, so that she could help her grandmother. "I still do hair," she says. "I've got a one-chair salon in my home at the farm."
John is an oil field special projects coordinator. He works out of San Antonio and Victoria, Texas, on a 14/14 schedule: two weeks in Texas, two weeks at home. He graduated from Rayne High School in 1985 and was drafted by Neosho County Community College in Kansas to be a baseball pitcher. He received an Associate of Science degree and had many offers to join a pro team—but his first wife got pregnant and real life got in the way. (John has a son and two daughters from his marriages. Kori gets along well with her stepchildren. She says, "Everybody's close—it's wonderful.")
Kori loves to tell the story of how John's parents met. "They were picking in the cotton fields. She couldn't stand him: he didn't clean his cotton all the way off the stalk. One night she went to a dance and saw this handsome guy in a yellow shirt. By the time she figured out that he was the rotten scoundrel who shoved stalks in the bag, it was too late!" Years later John's parents were astonished to realize that Honey Do Farms was the same property where they had picked cotton long ago.
"John's dad was a breaker and trainer who helped out his friends with their racehorses. He broke and trained his own, and John grew up trail riding his dad's Quarter Horses." John's dad is part of Honey Do's racehorse business; he's helping John and Kori with choosing stallions and broodmares and getting horses ready for sale.
John and Kori have one Quarter Horse stallion, a 15-hand sorrel named Pass On Black Jack, an own grandson of Streakin La Jolla. He ran 300 yards and was getting ready for 440, but he had a terrible accident: he stuck his head, somehow, through the 6-inch opening of a hog panel fence, and then ripped off half of his face when he pulled back. John and Kori almost lost him. He was paralyzed from the ear down on one side, his eye abscessed and had to be removed, and his tongue was so swollen that he couldn't eat. But eight sessions of acupuncture brought all the feeling back to his face. From one side he looks gorgeous. "He's a spoiled brat who makes fab babies!" says Kori.
Their other three stallions are Thoroughbreds, all 16.2 hands. American Tribute is a 19-year-old chestnut by Mr. Prospector, out of Dancing Tribute, by Nureyev. He was injured as a two-year-old. Instantaj is a 19-year-old black by Nureyev, out of Matakurh, by Riverman. He had earnings of $396,000 and ran 6 to 7 furlongs. He won the Mr. Prospector Handicap and the Deputy Minister Handicap at Gulf Stream, and won an allowance race at Belmont. Both American Tribute and Instantaj are registered with the Jockey Club and approved by the American Quarter Horse Association. Kori says, "Our new guy is Joey's Mizzen Mast. He's a 7-year-old dark bay Thoroughbred by Mizzen Mast, out of Spare That Tree, by Woodman. He went 7 furlongs to a mile. Came in third, second, and was way ahead in his third race when he broke his sesamoid. He would have broken his maiden in that race!" All four stallions live at Honey Do, where they can keep an eye on their offspring.
Honey Do Farms comes by its name honestly: the place really is more than just one farm. Ferrets, stallions, eggs, hay, foals, pigs, puppies, happy campers, seasoned school horses, and everything else in between provide enough life to fill a parish with farms. And don't forget the two "honeys" who love to do what needs to be done: Kori and John.
Kori says, "John and I would like to extend a special thanks to all of our family and friends who have backed us and loved us and helped make this farm a go."