Written by Barbara Newtown
Original Publish Date: June 2014
Danny has a big smile on his face as he enters Don Stemmans' office in Stemman's Horse Supply in Carencro, Louisiana.
Don and I stop chatting and sniff the air.
"Mon Dieu!" says Don. "Boudin balls!"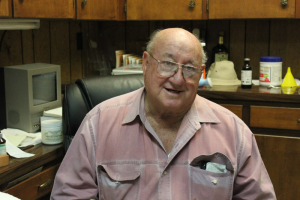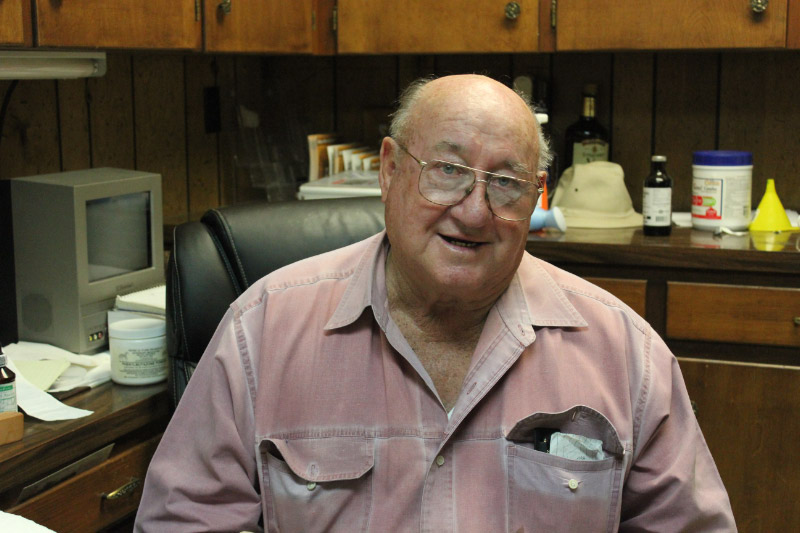 Danny hands them around. Two inches in diameter, warm and delicious and spicy. Danny waves goodbye and heads off for some kick-back time at a state park. "I'm kind of hard to work for, but Danny's been with me thirty-five years," says Don.
"My wife Janet and I started this business in 1968. We've got at least one of everything, and a warehouse in the back. We have another store right on the grounds at Evangeline Downs in Opelousas. It's small, but it has the same things we have here. They're getting ready to race tonight, so the lady who runs that store has already called me three times this morning for re-stocking!"
Don likes to go up to the track store around 3:30 PM and talk to the customers who need last-minute supplies for the evening racing.
"Now, I've had shops all over," he says. "I had one in Hot Springs, Arkansas. I had one in Kenner. And I stayed for fifteen years up in Bossier City, running a racetrack shop at Louisiana Downs."
When Don bought the tack store at Louisiana Downs, he brought in some South Louisiana style. "If I'm paying rent all day, I'll stay open all day! I opened at 5 AM and made a little coffee. And here come the guys. They didn't know me that well, but first thing you know we had a big old bullshit parlor right there. Trainers would call and say, 'Hey, do you have any hose menders?' Because those are the first thing you need in the morning." Before long the store mushroomed into a good business. Don says the inventory of things you need for racing is amazing: nutritional supplements, tack, wound dressings, lameness cures. He carried them all.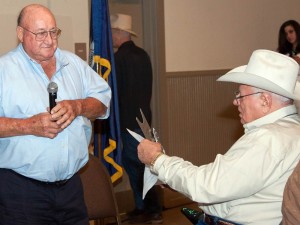 Don taught the Bossier City racetrack folk how to do things the Cajun way. "Down here, if somebody gets sick, we have a fundraiser. Up at Louisiana Downs, Tommy Morgan, a trainer, got sick. I said I'd hold a fundraiser for him, but some people didn't think it would work. I called some friends at Delta Downs and said I need $500 for a fundraiser and they sent it. I called up friends in Kentucky. Within a day we had $10,000 for a reverse drawing and sold every last ticket. We auctioned things, too."
Thirteen years ago, while the Stemmans family was in Bossier City, Janet passed away. Don decided to return to South Louisiana, but he was concerned about the future of his Louisiana Downs store. "It takes a special person to run a shop, because you have to be nice to your customers, even if you don't like them!" It seemed that all the people who could run the shop the right way couldn't afford to buy it, and all the people who could afford it weren't interested.
Don called up Gracie Guillory, wife of the jockey David Guillory. "I said, 'Now, Gracie, I need you to help me. You know I can't ask just anyone to run my business.' I told her I wanted her to run my cash register. But I really wanted her and her husband to buy the place."
David Guillory didn't want to take over the store at first, but he did. Two years later David had a bad spill when horses clipped heels, and he almost became a quadriplegic. He can walk a little bit now. "David has told me at least six different times, 'Mr. Don, I'm glad you made me buy this thing.' I did make them buy it! You can't be a jockey forever. You have to have a Plan B."
When Don returned to the Cajun country around Carencro, he was returning to eight generations of family tradition in the horse world. He remembers his grandfather's blacksmith shop, where you always had to wear shoes because of the hot iron. His grandfather shod all kinds of horses and mules, but he was famous for his skill in shoeing buggy horses. "Most of those buggy horses were pacers, and they would strike themselves if they weren't shod correctly. My grandfather knew how to get their feet going." Don remembers waking up at night and hearing "clip-clip-clip"—the sound of buggies racing on the highway outside their house. "The sparks would be flying on the road," he says.
His father was a horseshoer, too, and Don prides himself on his own horseshoeing know-how. "I've had horses all my life. Not always racehorses. I used to do a little amateur calf roping. I never rode in a race. I wish I could have raced Quarter Horses." Before he got into retail, he would shoe horses on his days off from working on oil rigs, onshore and offshore. "I worked for The Superior Oil Company. Don't forget the 'the'! I roughnecked and worked derricks upstairs. We worked eleven days—with one day for traveling—and four days off. But when I'd come in off the Gulf, I'd keep working, shoeing horses. I've never been without work."
One of Don's ventures was a bush track in Carencro. He points to a charming painting hanging on his office wall. The artist, Earl Hebert, has captured a slice of bush-track life. And the bush track he has portrayed is the same one Don ran. There are fancy women, sharp-dressed bettors, jockeys, owners, trainers, families. "You can't buy a painting by Hebert any more. Last one I saw sell at auction brought $3500."
I study the crowd in Hebert's scene. "Look at that sharpie in the plaid pants! He looks like he's got some insider info about the next race," I say.
"That's Albert Laurent," says Don. "He was a big time racetracker and he bet a lot of money. See that one on the porch in the chair that's cocked back? That was one of my truck drivers."
"And is this someone?" I ask, pointing to a lady tipping a bottle to her lips.
"Wife of another guy who drove truck for me. She used to guzzle beer all the time," says Don.
The track was a three-quarter mile oval with good sandy loam footing. It was once right off the main road in Carencro, but it is long gone. In the track's place are a funeral home and a cemetery. Don misses the good times of the bush track days.
"At the track we'd sell Calcutta pools. You could bet on anything with three or more entrants. And we'd sell bets on horses getting to three different distances in the same race." The distances were measured in arpents, an old French measurement that is about .85 of an acre. In length an arpent is about 189 feet. This Cajun betting system rewarded the horse that was ahead at 36 feet from the gate, four arpents from the gate, and seven arpents from the gate. Since the horses shifted position during the race, one race could make several winners. Don also ran poker and bourré games.
Don says, "Everybody was happy, drinking beer. We had a lot of oak trees out there, and we'd pick up the branches, let them burn in the barbeque pit, and then cook on the coals. I'd get Boston butts and I'd have the butcher slice them real thin for sandwiches, with the bone in. I always had to argue with the butcher, because he didn't want to slice thin enough. I kept threatening to fire the butcher, but then his daddy would come in the afternoon and buy rounds for everybody. How could I fire someone whose family was keeping the customers so happy?"
Don shows me an aerial photo of his farm, Traders Rest. He has a 5/8 mile track, 175 stalls, lots of paddocks, and four hot walkers. Although the training centers have more amenities for trainers, Don says that riding is only allowed from daybreak to 9:30. At his own track, he can send a horse out any time. Traders Rest is becoming more restful: when the farm was going strong, Don would foal out 50 mares each spring; this year he took care of ten mares, and was able to keep an eye on them with five video cameras.
The habit of working hard is hard to break, though. Don gets up every morning at 4:15 AM. He insists he doesn't do much work. "I make coffee, go to the barn, walk around…" Joseph Rideaux has worked for Don at Traders Rest for fifty years, but when Don needs help around the farm he is more likely to call his son, Donald Charles Stemmans II, who is, as Don says, "real handy."   His son works for the federal government as a soil conservationist.
Don has two daughters. Catherine is a Ph.D. and a professor of sports medicine at Indiana State University at Terre Haute. Charlotte has a degree in accounting from Tulane and, as Don says, "she is the quality control and the financial wizard behind the Stemmans shops."
Don and I stroll out into the store. I notice the custom leather goods, and then I notice Don's large leather-repair shop. He says, "I don't make saddles; I just repair them. And I make all the things that go with the saddle, like stirrup leathers.  I find leatherwork restful. I can sit down and sew leather all day. I do it often." Don says that a "side" of leather used to be $50; now it's $200. Every scrap is valuable. Don has found a thrifty way to deal with leftover leather: he has started making tote bags, which can be made to order in custom colors. An afterthought has become a retail bonanza.
"Nobody's been in the tack store business as long as me," says Don. "Credit killed a lot of stores." Declaring bankruptcy gives an individual a fresh start….but businesses suffer. Don doesn't like to give credit.
"I bet horse people go bankrupt often," I say.
"Yup," says Don, in a wise and weary voice. He has seen financial distress up close: he knows members of his family who had to declare bankruptcy. For a moment I think like a business owner, and I can imagine the misery that spreads through a community when consumers overextend and then are allowed to walk away from their debts.
Don and I cheer ourselves up by looking at all the supplements you can give a racehorse. Digestive aids, muscle builders, hoof builders, electrolytes…
"I make a supplement myself," he says. "The ingredients are secret, so I just sell it to some of my friends. They love it!"
Don shows me his gnarled fingers. "A man came through the store one day and asked me what happened to my hands. He told me he was a doctor. I said my hands were not doctor's hands—my hands had worked. He said, 'Man, your hands must hurt.' And I told him yes, they hurt sometimes…but what I do is put a little cortisone in a bottle with some DMSO, rub it in, and the hands will be all right for a couple of months. The doctor said, 'I can't believe that! The DMSO will kill you!' I said, 'Well, it's taking a long time, because I've been fooling with it for fifty years!' When the doctor was leaving the store, I told him if he got any patients he couldn't help, he could give them my 800 number!"
Yes, Don Stemmans is old school. However, he's also "new school."   His store boasts a first-rate website where horse people can find just the right bit or bucket or horsey gift. http://stemmans.com