Original Publish Date December 2013.
Annie Claé, of Church Point, Louisiana, has been hanging around horses since she could walk. Her father, Rusty Barousse, has always loved beautiful horses. He started showing halter in 1995 with Annie's older sister Holly.
Rusty wanted a good horse for Holly to show.
"What I was looking for was not a barnburner, but something that would be competitive. And what I found was a sleeper! We were at Patty Woods' place in Katy, Texas, looking at some babies, and he just stuck his little head out, he had that soft eye…and before I got back home I called her and I was buying him." WR Obvious Gold, or Woody, a son of Obvious Conclusion, was sixth in the world as a three-year-old with Holly. Woody just missed being world-class: he was an inch too long and an inch-and-a-half too short. Rusty says, "In the nineties the judges wanted the horses sixteen hands or better. Now it's gone down a little bit, because of Dominant Clu and Kid Clu, both 15.3." The Clus were so outstanding in their conformation that the size expectations in halter were lowered.
Holly won two scholarships with Woody. Annie started showing him, and she won a scholarship, too. Rusty collected more horses.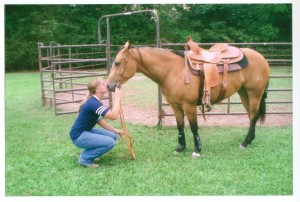 "Annie was showing a mare, with whom she qualified for the Youth Worlds. And then in 2008 they changed the rules: even though your horse was registered AQHA, if you had excessive white on your papers, you couldn't show halter!" Annie's mare had a white spot on her belly, so suddenly they were ineligible for the Youth Worlds. Rusty sprang into action and bought a yearling gelding from a friend of his in La Platte. The yearling was by a son of Kid Clu, but he was a bit late developing. Annie was a finalist that year at the Worlds, and the next year her horse came in eighth. In Louisiana he made both high point yearling and two-year-old. It looked like Annie's future in AQHA halter was secure.
"And then she tells me she wants to do riding!!! She didn't want to do pleasure, she didn't want to do the slow stuff, she wanted to get into reining!" Rusty says.
Annie listens to her father while holding her little boy Clayton. She smiles serenely and says, "When we would go to the Worlds, I'd watch the reining. And I'd watch it on the RFD channel. It interested me, and looked exciting, so I wanted to get into it."
Annie says that she really learned to ride on Woody, who built up her confidence. She felt ready to refine her skills on a trained reining horse.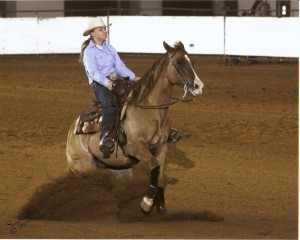 Rusty and Annie found a prospect at the Youth Worlds: Pepto CT Rey, a little buckskin mare from Crosstie Ranch in Guthrie, Oklahoma. They gave her the barn name Lena, because her grandfather was Colonel Rey Lena, a champion reining horse.
"We bought her to put her in training," says Annie. "Crosstie is a cutting ranch, and Lena wasn't finished. She was three, and had been started late." They took Lena to Jason Grimshaw of Faith Performance Horses, in Elm Grove, Louisiana, in the northwest corner of the state. Lena stayed with Jason for a while, but Annie wanted to ride her during the training, and Elm Grove was too far away from Church Point. They brought Lena back home, but they realized that she needed more time with a qualified trainer. "Annie and I were green as grass," says Rusty.
They placed Lena with Tab Gatte, in Iota, just thirty minutes from their place. Annie was able to ride every day, not only Lena, but also Tab's up-and-coming two-year-olds, and his number-one show horse, Coyote.
Lena already had a good stop and good circles, but it took at least six months before Lena and Annie were ready to show. Lena needed work on her rollback and turnaround. (In the rollback, the horse comes to a sliding stop and immediately turns on its hindquarters 180 degrees and takes off again in the lope. In the turnaround, the horse, from a halt, spins 360 degrees four times, keeping the inside hind in the same place.) Since Lena had started off as a cutting prospect, she had difficulty coming back in her tracks. In cutting, a horse steps backwards in the turn; a reining horse is supposed to be forward when it turns.
Rusty says, "I decided to look for a more finished horse for Annie." He had intended for her to learn the process of making a reining horse from start to finish—"rather than getting on a horse with automatic transmission!"—but he realized she needed to learn what it felt like to show a horse who really knew what he was doing.
Tab Gatte had apprenticed under Mark Wilcher of Rayville, Louisiana. Mark mentioned to Tab that he had gotten "Old Smarty" back from a woman in Florida. Mark had worked with Smart Cuttin Peppy for a year and a half and had won the three-year-old Worlds with him. He was planning to take Smarty to a National Reining Horse Association futurity when one of his other horses tossed him and he broke his collarbone. Another rider showed Smarty, and the owner took him back to Florida.
Rusty says, "I bought Smart Cuttin Peppy, sight unseen, for Annie. He's a bay tobiano, an own son of Color Me Smart, the number one sire of paint cutting horses."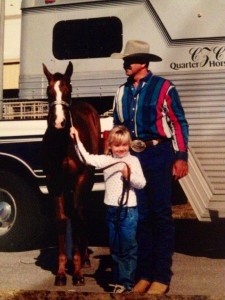 "Smarty's a goofball," says Annie. "He's scared of his own shadow, but he's sweet."
"He's scared to death of squirrels!" says Rusty. "He must have had a bad nightmare with a squirrel in it."
"There's a pecan tree where I ride, and whenever he hears them climbing up the tree, he has a fit. He almost went over on me once!" Annie laughs. "But he's got a big heart. He likes to work. He moves smooth, and he's real athletic." Annie says that Smarty sometimes starts out rough at a show, but he comes back down for the later classes. She and her dad shake their heads over Smarty's habit of showing his best in the practice pen.
In 2011, Annie and Smarty were getting to know each other, and in 2012, Annie and her husband Derek were expecting. Little Clayton was born September 26th, 2012. Annie started riding again and was ready to start showing. She and Smarty won the Dixie National Paint show in Jackson, Mississippi, in February 2013, and the Louisiana 4-H competition in the summer. And they won the Pinto Worlds in reining in Tulsa, Oklahoma. "It's been a good 2013!" says her dad.
Annie tried 4D reining in Pine Bluff, Arkansas, this year, too. "Everyone shows in one division, but they break it up for the payout." The scores, high to low, are divided into four tiers. The lowest score in Division One is the score that is just above the highest score in Division Two, and so on. You don't know which division you are in until everyone has shown. The advantage is that the riders have four times the chance for prizes.
In 4D Annie showed a mare they had recently bought from Mark Wilcher: a buckskin out of a daughter of Shining Spark. "I fell in love with her," says Annie. "We started out rough, but she's come a long way, and is getting better." They placed second in Division Two.
Annie usually brings home ribbons and belt buckles for her reining accomplishments. "The barrel racers are the ones who win the saddles and trips," she says. "I thought about doing barrel racing, but I want to do more than just run around. I want to do the different maneuvers."
Each horse has its strong points in reining; as in dressage, perfection is impossible. There's always something to work on. "My 4D mare has a really smooth stop. Smarty's turnarounds and rollbacks are really sweet and smooth," says Annie. "You learn little things to help make the horses better."
She practices in a well-tilled arena, about 20 meters by 40 meters, nestled between a paddock and the horse barn. That size is sufficient for training almost all of the reining movements: flying lead change, sliding stop, rollback, turnaround, and backup. However, the large gallop circle and the rundown (the big gallop before the sliding stop) need more space. About every two weeks Rusty rents a large arena nearby, and he and Annie let their reining horses stretch out.
Rusty still loves the halter scene. He says that in the mid-90s there were lots of halter shows in south Louisiana. "Not many halter people any more," he says. "It's hard to put points on a horse." If you're riding your horse, it doesn't matter if there are lots of shows or not: "at least you're riding!"
The family halter tradition shows up in their beautiful, well-muscled, gleaming horses. We walk through the barn, and I admire calm eyes, clean throatlatches, arched necks, and, of course, powerful hind ends. Rusty admits that in the past the hooves and the legs below the knee were a bit too small. Rusty's son of Noble Tradition, Holly's first halter horse, was taller than Rusty's eyes, but he wore an aught shoe.
Rusty has opinions about halter judging. He thinks the judges are looking for a sturdier leg and a larger foot; a good thing, when you consider that the judges want to see a horse that weighs 1500 or even 1600 pounds. The judges like a good slope to the shoulder and a neck that ties in high. The ideal is a "pencil neck" with a clean throatlatch, balanced by a "bubble" in the rear. Rusty shapes a large apple shape in the air with his hands.
Rusty, a welder by trade, now oversees an offshore construction company. But I suspect his calling is his horses…and his family.