Written by Barbara Newtown
Original Publish Date January 2013
Cody's Cutee, owned and ridden by Danica Norred of Quitman, LA, was bred by Danica to be a reining cow horse. But, as Danica says, "You have to let the horse show you what it is meant to do." Cutee has decided she likes dressage: she and Danica are rated fourth in the world for 2012 in First Level Dressage by the American Quarter Horse Association.
You might expect a Quarter Horse dressage star to show a lot of Thoroughbred in her pedigree. But Cutee is 100% foundation Quarter Horse: Danica has traced Cutee's pedigree back to 1915 and has found no modern Thoroughbred influence.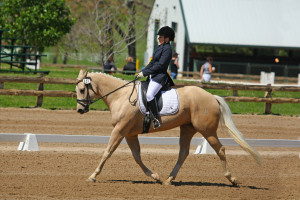 Cody's Cutee has a pedigree that features, on her dam's side, old-time King Ranch breeding: her dam, Cody's Bear Essence, is a granddaughter of Bill Cody, an influential sire in Quarter Horse history. Sire of Cody's Bear Essence is Bear's Fact, a halter and performance champion in the International Buckskin Association, and double-registered in the AQHA. Danica showed Cody's Bear Essence in reining and ranch versatility, but her best event was competitive trail. After a five-year show career, Cody's Bear Essence joined the broodmare band at Danica's farm. Eventually Danica decided to breed Cody to an outside stallion. Her dream was to own a palomino with all the performance ability of Cody.
Danica chose Quick Skipping Zans, a 16 hand golden palomino. "Skipper," owned by Gurvey Gunter, a Louisiana breeder, showed in jackpot roping and show roping. Show roping, an AQHA event, has two parts: first, the horse runs for time and money; second, the horse runs again, but this time it is judged for quietness in the box, cow tracking, and cow holding. Skipper had not only the right color and the right performance career, but also the right old-time bloodlines. His grandsire is Just Plain Colonel, the seventh all-time leading sire of reining cow horses. Zan Parr Bar and Two Eyed Jack are also in his pedigree.
Danica says, "What I liked best about Skipper was that at big events, with children running around, he would stand quietly…a polite gentleman. He was only four at the time. And he had a rocking-chair canter; he almost loped in place." Cody, only 15.1, is built short and wide. "Cody had a rushed lope. I thought if she had a longer leg, her canter would be better." And Cody is a chestnut, a recessive color, which meant Danica had a 50/50 chance of getting a palomino. "I was freaked out when I was delivering Cutee…I had a little 'moment'—'what color is it, what color is it?' She's paler than her sire, but she is a palomino!"
Cody's Cutee is only 15.2, but she does have more leg than her mom, and rides like a much larger horse. The canter is indeed better. Danica started showing her in western activities, but judges kept making the same comments: A) "She's so cute!" and B) "Movement is too big." Danica had hoped to specialize in reining, but Cutee was a tall, awkward baby, not as short-coupled as typical reining horses. Cutee tried hard, though.
"I have always taken dressage lessons to improve my horsemanship," says Danica. She took lessons from Kathy Hughes, once president of the Tri-State Dressage Society, and Kathy Kopp, who would come down from Wisconsin to give clinics. Her favorite teacher was Wolfgang May, who died in 2012. Wolfgang had trained with the coach of the German Olympic dressage team and had studied "high school" movements, such as levade, capriole, and piaffe, at the Spanish Riding School in Vienna. He came to America to ride and train the Lippizan stallions of Tempel Farm, near Chicago. After 15 years with Tempel he started giving lessons and clinics. He eventually settled in Texas, and he was an inspiration to many Louisiana dressage riders.
"What impressed me about Wolfgang," says Danica, "was how calm and gentle he was with a horse. With him on top, horses immediately went into dressage frame and moved beautifully. In his training, shoulder-in and half-halt were the key to everything. He could give half halts that were invisible and that could bring a horse from extended trot almost to a halt and then back into extension. In answer to the question 'is there a certain kind of horse or tack that you prefer?' he said, 'I would not bring my own piano to a recital.' He worked with whatever you brought him. He believed that the breed doesn't matter and that all horses can benefit from dressage. I brought Cutee to him when she was two. I said we aren't doing the right thing…maybe you can help us do better?"
Wolfgang liked Cutee's trot and canter, and suggested that Danica show her in dressage. "He always positively encouraged me, and told me to move up the levels, do more." Cutee and Danica showed at Training Level for two years at local, unrecognized shows, mostly sponsored by the Tri-State Dressage Society. This past summer Danica decided to do her first United States Dressage Federation recognized show, in Tyler, TX. She also decided to move Cutee up to First Level at the same time. First Level asks for fifteen-meter circles at the canter, ten-meter circles at the trot, trot and canter lengthenings, and counter-canter. If a horse isn't ready for the demands of First Level, the test will be marred by stiffness, sloppy geometry, and insufficient lengthenings.
Cutee was ready. "In Cutee's class, there were some stallions and a lot of big warmbloods. I wasn't expecting much, but we came in third! I liked the Tyler show so much that we attended another recognized show in Dallas." And did well, there, too. As a result, besides being 4th in the AQHA world standings for First Level, Cutee is ranked 5th for all Quarter Horses in the USDF all-breed competition, and is now one point away from earning her Register of Merit from the AQHA. "The ROM is a big goal for a breeder," says Danica.
Danica explains that for dressage scores to count in the AQHA, the dressage judge must be a member. "The judges don't have to do that," she says. "It's extra expense for them, just to benefit a Quarter Horse who might or might not show up." She is grateful that the judges she showed under this year—Natalie Lamping, Anita Owen, and Williams Solyntjes—made that effort.
Danica is now a fan of dressage shows. "I am hooked on the atmosphere, the people… There were many different breeds and many different people from different places like Spain and Germany, and they all went out of their way to help. I love the idea of you and your horse showing off your skills. Besides, you only need one outfit, one saddle, and one horse!"
Danica and her husband Jerry own Bear Creek Stables in Quitman, where they live, train, and give riding lessons. Jerry started out showing cutting horses, but now he concentrates on colt starting and problem horses. "The most important thing we do is teach ground manners," says Danica. "Problems on the ground carry over into the saddle. Under saddle, the biggest problems are lack of control and 'putting a mouth on'—dealing with a horse that won't accept the bit." Years ago Jerry met Jim Long, who had been an instructor at the American School of Horsemanship. Jim had come south to train Arabian horses in "high school" dressage. He was a master at driving, and he taught Jerry the art of long-lining—how to make sure a horse has a soft mouth before ever getting on its back. Once the horse trusts the bit, the rider can mount up and teach leg cues.
Jerry and Danica usually keep a client's horse for two to four months and teach it to drive, longe, sidepass, pivot, leg yield, and do shoulder-in. They desensitize it to scary things like tarps and bags, and they take it on long hacks in the neighboring game refuge to get it used to creeks and ditches. At the end of the training period, the client gets free lessons. Danica says that "the number one rider problem is hands. That's why we give lessons—to ensure that the horse and rider will be happy together down the road." Jerry and Danica help the rider understand what the horse likes and needs.
"Western" and "dressage" don't have to be that different. Whatever the discipline, horses should be light and supple and happy in their work. Danica says, "I would like to encourage western riders to try dressage. If Wolfgang had been uppity about my western saddle or my western horse, I wouldn't have done it. Be like him—stay open-minded."