Written by Barbara Newtown
Original Publish Date May 2013
This year the Horseman's portion of the 2013 Horses and Harmony award is being awarded to a true horseman who has contributed to so much of the horse industry in Louisiana.
Lee Young was born in 1937 in St. Landry Parish. His father was a sharecropper who farmed 100 acres of rice, raised livestock, and broke horses to the plow. Lee had the riding urge from a young age, and hopped on everything with four legs—even the milk calves. The milk calves would stay up around the barn while the cows were out to pasture. Lee broke all of the calves to ride, and would take one of them out to bring the mother cows back at the end of the day. The calves had a "rough handle," but they got the job done. "I even had a saddle and bridle I used!" says Lee. His father was not pleased with Lee's adventurous nature and tried to keep him in line with regular applications of the belt. "I was a pistol as a young boy," Lee says. "I had a habit of wearing three pairs of pants at a time to protect me!"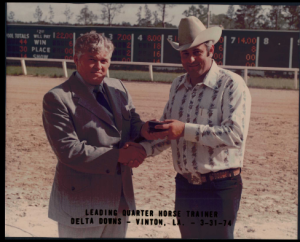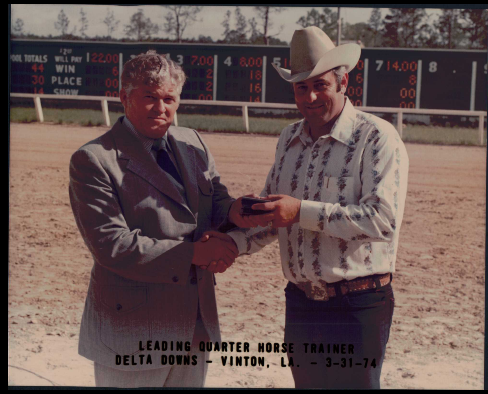 Lee admired his father's knowledge. Ever since, he has taken care to listen respectfully to those who know more than he does. One of the first lessons he learned from his father was how to cure a barn-sour mule. "Slick" would work fine plowing the field until it got to be quitting time; then he'd take off for the barn. Lee's father finally had enough and left Slick's harness on for three or four days. The mule figured out that home wasn't that great and quit his nonsense. "I always remembered that, and used the concept a few times to get through to a few horses that were barn silly."
When Lee was fifteen, he and his buddies found a small group of horses in the woods. In those days, there were still livestock at large in the parish. Lee saw a pretty mare in the herd. The boys drove the horses down a dead-end lane not far from Bob Bouget's current place. Lee saddled the mare, snubbed her to a buddy's horse, turned his own horse loose, and then rode her from Church Point to Branch. "I traded horses with the woods that day," Lee says. That mare, the first horse Lee trained by himself, won him an All-Around buckle at a riding club show and made him proud.
His father, who had never owned land, finally quit sharecropping and moved to the city. He worked contract construction and opened a lumber yard.
Lee kept on cowboying.   He started bulldogging and calf roping in rodeos. At the age of nineteen he won the Tri-Parish Rodeo in Eunice, LA. He took away $62 and used the money to get married—and still had $30 left! His bride Shirley had to wait a few years to get a real ring, but she didn't bear a grudge. They have been married for 56 years.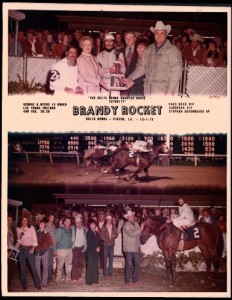 Lee kept on calf roping while he and Shirley raised four kids; Troy Young, Lea Ann Bolero, Shirlene Meyers and Marty Young. He thought if he could learn to rope really well, he'd be rich. After some struggling, he looked around and saw that there was indeed money in training cutting horses. Although he wanted to keep roping, he kept his eye out for a cutting-horse mentor. In the meantime he was showing horses all over the country and was busy buying and selling horses as well. He and Shirley saw much of the USA, but Shirley was never happy living anywhere but south Louisiana.
Lee says that one of the best moves he ever made was going to work for Matlock Rose, one of the best cutting horse trainers he knew. At the time Lee was riding for Donald Gardner. Lee recommended to Donald that he send a couple of horses to Matlock Rose. Lee unloaded on a Sunday morning at Matlock's place and he and Matlock went to breakfast. Lee asked Matlock for a job.
"What do you want to do?"
"Anything! I'll do anything!"
Matlock said, "No, I don't need anyone." But he kept asking Lee questions, and found out about Lee's riding experience and his wife and kids. He also kept saying, "No, I don't need anyone."
About the time Lee figured that was that, Matlock called him and asked if he would like to build a roping arena, about 200 x 160, with posts every ten feet. The ground in Gainsville, TX, is almost solid rock. A seasoned worker could figure on digging about two posts a day. Lee did not hesitate and said he'd do it gladly.
So Lee showed up at Matlock's with two horses, ready to go, and after three months he was hired as a full hand. He credits Matlock with much of what he learned about being a horseman. Matlock believed a trainer should be able to do it all: roping, riding, reining, cutting, shoeing, everything. Lee worked hard, but had more fun than ever, and even had a part in breaking Peppy San.
They never did get around to building that roping arena. That was just Matlock's way of seeing if Lee was really willing to work! Lee stayed with Matlock off and on for a period of nine years. During the "off" times he was back with Donald Gardner. He showed with and against Matlock, and never failed to learn new things from him.
Evangeline Downs Racetrack opened in 1966, and a year later Lee started training horses there. He was the leading Quarter Horse trainer three times in the early 70s, and finished second three times. Lee was also instrumental in the founding and opening of Delta Downs which helped bring year round racing for Quarter horses. At Delta Downs in 1973 Lee won the first $100,000 race for any breed in Louisiana. The two-year-old was Brandy Rocket, ridden by Stephen Desormeaux.
Lee built Louisiana Stud for C. T. Fuller of Pennsylvania. He chose the land for its excellent drainage, and few bugs. He transformed it from a humble sweet potato farm to a race horse show place. It opened in 1970, and Lee bought it from Fuller in 1977. Bill Darling and Joelle Comeaux bought in, and the three of them made good money buying, selling, and racing. Like D. Wayne Lucas (with whom Lee traded places for top trainer several times in those early years), Lee started out racing Quarter Horses and quickly added Thoroughbreds to his program, too. Lee's Quarter Horse wisdom enriched his training of Thoroughbreds: "No horse can run full out for more than 3/8 of a mile."
While Lee was at Louisiana Stud, the value of racehorses was increasing 28% a year! However, the finances were not always worry-free. Lee tells the story of purchasing Nalee's Man, a Kentucky stallion, for $300,000. He committed to buying the horse without a penny in the bank. He remembers walking out of the shed row into the parking lot past some of his buddies. When they saw him, they asked what was the matter? He looked rather green around the gills. He confessed that he had just bought this horse for $300,000, and had no idea how he was going to pay for it. Several of them jumped at the chance to own a piece of that fine horse, and so their first syndicate was born. The friends brought Nalee's Man to Louisiana Stud, bought forty mares, and bred them all to the new stallion. They sold the yearlings and paid what they owed on the mares. They averaged $7500 cost per mare, but sold the yearlings for an average of $40,000 apiece!
One of Lee's favorite horse stories is how he bought Dickey Rickey. He had gone to look at the horse for his friend Bud Thibodeaux, who had clients flying in from California. Bud wanted Lee's opinion. When Lee saw Dickey Rickey, "all kinds of bells went off!" He and Bud got back in the car and Lee offered to buy the horse.
Bud was not keen on the idea, because the California folks were already on their way. Lee said, "What's wrong? My money's no good?"—and got the horse for $25,000. Now he had a hard choice. The Californians were on their way and ready to pay $40,000. Should Lee keep the horse, and not know for sure how he would do…or should he sell him to the Californians and make $15,000 in less than a day? He discussed the situation with his son Troy. Troy told him he was on his own. "No matter what I tell you it could be the wrong thing. If he does well, you'll be mad you sold him. If he doesn't, you'll be mad you didn't!" It turned out that Lee made the right decision in keeping Dickey Rickey, who turned out to be one of the best horses Lee ever had. The horse won over $500,000 in his career, including Grade 3 stakes races.
Charlie Whittingham, the legendary Thoroughbred race trainer, was a great role model, and Lee loved learning from him. Charlie rarely left the barn. He spent time with his horses and knew them well: he could tell how they were feeling and what sort of training they needed each day. Lee also made a point of knowing his horses and his jockeys, too. If they lost, he never made excuses to the owners. He'd just say, "We got beat!"
Lee shares one of his racing secrets: "There's a big difference between trainers and true horsemen. Eighty per cent of the horses today are over trained. I made more money from claiming horses that were over trained. We'd get them, walk them 30 days, then run and win!" Sometimes Lee would ask for only 20 yards of gallop and a jog the rest of the way around the track. Keeping horses fresh and fast on the break was a good formula for success.
Admiration for the American Quarter Horse stayed strong in Lee, despite the big money and excitement of Thoroughbred racing. He was a fixture at the national AQHA conventions. One year he sold Line Deck, his dam, and another mare to some Australians he met at the AQHA. They asked him to come to Australia and put on a seminar. At the time, racing in Australia was mixed breed and the shortest distance was 5/8 of a mile. When Australia held its first official Quarter Horse race, Lee was there. Eight horses ran ¼ of mile on grass, and Lee's horse won the very first Quarter Horse race in Australia! The locals tried to hire him, but he only stayed a month, because he was eager to get back to Louisiana.
In the 1980s, some of Lee's buddies asked when he was going to show cutting horses again. Lee protested. "I haven't shown in twenty years! Maybe if you'd give a fella a non-pro card after sitting out for twenty years I'd consider it." So the rules were changed to read that you could qualify for a non-pro card after not competing for twenty years. Lee and a few others came back to give the show ring a go again.
Lee's son Troy says, "My dad taught me hard work and dedication." Troy grew up rodeoing and showing alongside his father, and respects his father for concentrating more on horse sales and less on race training, so that he could spend more time with his family. Troy managed the Louisiana Stud Farm until it was sold*, and then he went to work for Frank L. Brothers, a top Thoroughbred trainer in New Orleans. After Louisiana Stud was sold in the late eighties, it went from glory to horror story. Lee and Troy were heartbroken to see the farm in disrepair and decay from storm damage and neglect. Thankfully, however, the farm is once again restored to glory, due to the enormous efforts of Harold and Sandy Forman, and it has re-opened as Copper Crowne. Troy now has 862 wins to his credit. He passed on a chance to work in Kentucky, and chose instead to stay in Louisiana to raise his family. "My dad is my hero," says Troy.
Dr. Larry Findley, DVM, is eager to tell of the huge impact Lee Young has had on his life, both as a young man and as a new veterinarian. Lee met Larry's dad, Willis Findley, while training horses in Arkansas. They became fast friends and helped each other over the years.   Larry says, "Lee and Shirley are like my second parents." The Youngs took in Larry and his wife Anita so that Larry could establish residency for the Louisiana State University vet school. "We babysat and changed diapers," says Larry. Lee and his daughter Lea Ann are Godparents to some of Larry's children, and Larry is Godfather to some of Troy's children. The bond of support and loyalty between the families is strong. When the time came for Troy to start his career as a trainer, Larry and Anita took in Troy and his wife, just as Lee and Shirley had done for them. Troy says, "He wouldn't let me pay rent."
"Mr. Lee taught me so much about horses," says Larry. Lee showed him how to tube a horse and how to catch a vein without the horse flinching. "He had the best hands in breaking a young horse. We would work them in the shed row, ground driving them and teaching them stop and go. There was one horse—Mighty Makay—that was giving me fits. I couldn't stop him and had a couple of close calls. Lee saw I was having trouble and said, 'Here, boy, give him to me.' In about five minutes Lee had this unstoppable horse turned around and working perfectly. 'It's all in the hands, boy,' he would say. I was just amazed!" Lee told Larry, "Don't forget—every horse has a key." Larry has not forgotten that lesson—and many others. "No one kept a shed row like Mr. Lee. Everything was always neat and tidy, put away and clean." Larry says that a lot of his success today comes from what Lee poured into him when he was starting out.
After vet school, Larry tried going home to Arkansas, but Lee and Shirley had given Larry and Anita some Louisiana roots. Lee helped Larry get established at Delta Downs, and, in 1980, Larry opened Delta Equine in Vinton, LA. "I would not trade my time with Lee and Shirley for anything," he says.
In summing up his life with horses, Lee says, "The key to success is WORK! I have done and accomplished everything I ever wanted to do, and I have no regrets!" Lee has had great influence on the horse industry in our state. He has gentled and trained many horses over the years, but one could say that his lasting legacy is what he has given to friends and family.