Written by Barbara Newtown
Original Publish Date February 2015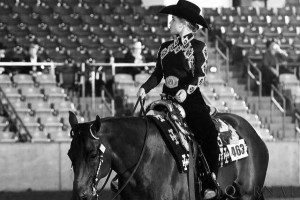 McAuley Ross is only fifteen, but she has already made the top ten three times at the All American Quarter Horse Congress in Ohio, the largest single-breed horse show in the world. She has high hopes for the third-largest horse show in the world, the Dixie Nationals in Jackson, Mississippi. McAuley and Johnny, her chocolate bay Quarter Horse with two hind socks, will be doing it all: horsemanship, showmanship, trail, Western riding, Western Pleasure, English under saddle and English equitation. Johnny's specialty is Western, but even though he's about 15.2, small for an English mount, he still places high. "He can stretch out his front legs and get a good reach," says McAuley. Johnny, registered as A Timely Version, is a son of Good Version, a winner of multiple championships in Western Pleasure. Like Johnny, most of Good Version's offspring are All-Around talents.
"Horsemanship is my favorite event," says McAuley. "You are judged on how you sit your horse, how you collect your horse, and how you control your horse with your legs. The horse should flow with you. When I compete in that event, it feels like Johnny and I are one. We are like dance partners." McAuley explains that in Horsemanship classes the competitor must ride a pattern chosen by the judge. All three gaits are shown. The patterns are posted and the riders also pick up the pattern books when they register. Since the judge can invent his or her own patterns, a rider has to be ready for anything. "You have to study the arena and use your brain to figure out how to perform the pattern. There are a lot of different maneuvers—extended lope, extended trot, 360s, and lots of transitions." McAuley says that judges sometimes ask for an exact number of strides for part of the pattern.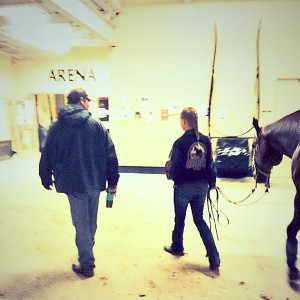 McAuley has been taking lessons from Don Martin of Brandon, Mississippi, since she was ten years old. Her riding career, however, started when she was five, when she got her first pony. Scout, a Palomino Paint, did everything, even jumping. "He was my childhood sweetheart," says McAuley. Her first "good" show horse was Timer Hid My Fancy, a Palomino with the barn name of Tommy. McAuley decided she wanted to show in Quarter Horse events, and Johnny joined the herd. Scout, Tommy, and Johnny all live at the Ross' ten acre farm in Madison, Mississippi, just a short haul from the Mississippi Coliseum in Jackson.
There's a fourth horse: a seventeen-hand Quarter Horse named Gucci, which McAuley's mother Mary Beth rides. Gucci is very athletic and can do anything, says McAuley, but he excels in hunter under saddle and hunter equitation. At the Dixie Nationals Mary Beth and Gucci will compete in the English classes and in Horsemanship. "She gives me tips," says McAuley. Her little brothers Austin and Van love sports and playing outdoors, but they don't have the same horse passion that McAuley does.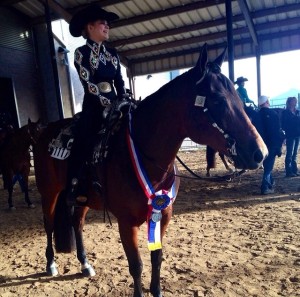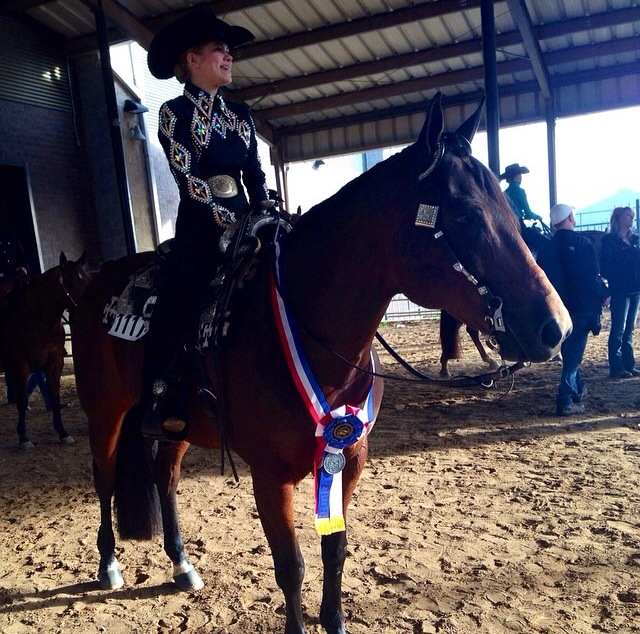 McAuley has plans for the future. "I want to go to an out-of-state college, ride on the equestrian team, and study to be in the medical field." Her educational dream is to become a nurse anesthetist. Getting up early to prep patients for surgery won't be a problem, she says: "I already get up early to feed the horses!"