Written by Frank M. Andrews, DVM, MS, DACVIM-LA
School of Veterinary Medicine
Louisiana State University
Edited from the Pigeon Fever Brochure and Press Release, February 25, 2015, Boehringer-Ingelheim Vetmedica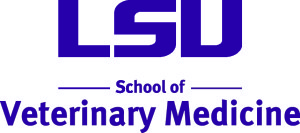 Original Publish Date February 2015
Pigeon Fever is caused by the bacteria Corynebacterium pseudotuberculosis.  Most commonly it causes external abscesses frequently found in the ventral and pectoral region of horses. C. pseudotuberculosis is found in the soil and is thought to be transferred to the horse through open abrasions, scratches, lacerations or fly bites. Of a major concern is the smaller percentage of horses that develop internal abscesses which can be fatal.
Diagnosis and Treatment
If a horse has an unexpected swelling on the breast/pectoral area between the front legs, limbs (see pictures attached), or anywhere these could be the outward signs of Pigeon Fever. Your veterinarian should be called immediately and he or she may drain the abscess and submit the pus for culture and a sensitivity or PCR test to diagnose and confirm the condition.  The diagnosis of internal infection can be challenging.  An ultrasonographic examination, radiographic examination or antibody testing can help aid in diagnosis of internal abscesses.
Approximately ninety percent of the time, Pigeon Fever cases will present clinically with external abscesses. These abscesses are typically treated by your veterinarian by lancing, draining, and lavaging the abscesses. Certain cases may warrant systemic antibiotics. Internal abscesses, found on the liver, lungs or chest cavity, kidney and spleen, are less common, but more serious. Up to 40 percent mortality has been reported in these cases, even with treatment. Surgery may be required to encourage drainage, and aggressive long-term antibiotic therapy is usually required.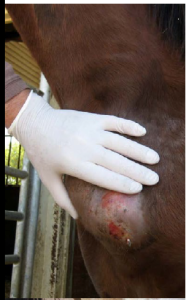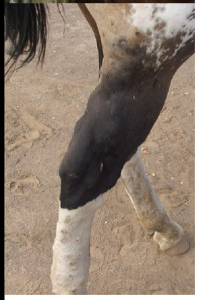 Vaccination
A new Pigeon Fever vaccine (Boehringer lngelheim Vetmedica, Inc., St. Joseph, MO) for horses just received conditional licensing from the USDA. The new vaccine will help horse owners and veterinarians fight this debilitating disease. "We are proud to equip veterinarians with a vaccine to help in the fight against this serious and unpredictable disease," says Robert Keene, DVM, Equine Technical Manager at Boehringer lngelheim Vetmedica, Inc. For more information about the new vaccine, contact your veterinarian or Boehringer lngelheim Vetmedica, Inc., Veterinary Technical Services at 866-638-2226, or visit HealthyHorses.com.