Interview by Barbara Newtown
Original Publish Date June 2015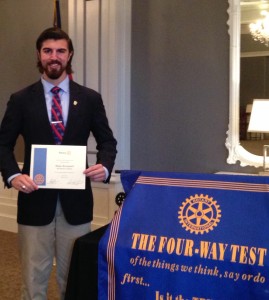 What is a "Berchmans Gentleman"?
I was one of the first graduating seniors at the Catholic boys school Berchmans Academy of the Sacred Heart, which was founded in 2006. Our sister school is the Academy of the Sacred Heart, founded in 1821. The schools are next to each other in Grand Coteau, Louisiana. I had the privilege to be a part of a great group of men led by great mentors. My time at Berchmans was unique and it allowed me to broaden my horizons both personally and academically. I was given the opportunity to be a part of a school that has instilled in me traditional values and community awareness.  I consider myself very blessed to call myself a Berchmans Gentleman.
Which sports do you practice?
I was captain of the basketball team and named All State Offensive Lineman this past year, but mostly I compete in rodeos. I am currently the Texas High School Region V Reserve Champion Steer Wrestler, with the hopes of competing at Nationals in Rock Springs, Wyoming. Being a top contender in my sport of steer wrestling consist of many hours in the practice pen and having a great steer wrestling horse. Mine happens to be a 23 year old horse named Moses, who knows his job and loves it. I keep him sound and feed him with Lone Star Feed. I practice with positive people in positive environments, so there can be a positive outcome.
Rumor has it you are in a movie!
Since I was enrolled in a school that promotes "Personal Growth in an Atmosphere of Wise Freedom," I was able to be involved in a major movie this past spring. It is a civil war movie starring Matthew McConaughey. When the director found out that I could ride, I was moved up to a Tier 1 extra.
It was a once in a lifetime experience that I will never forget. I was able to meet Oscar winning producers, directors, and actors all while keeping up with my school honors assignments via email and my steer wrestling practices at other arenas. Even though I enjoyed being a part of the movie, I mostly enjoyed seeing all the background work that was involved in making the movie. Being fitted for wardrobe and makeup (having scars and cuts put on my face and arms) was serendipitous.
What are your college plans?  
I will be attending LSU in the fall and I plan to major in Construction Management in Engineering with a minor in Business. I was fortunate to complete 60 hours of internship in May in my chosen field. I interned with the best of the best and I am looking forward to my new career.
I do plan to continue to rodeo, just not in the beginning of my college freshman year. My academics are very important to me and I want to make sure that I have everything in order, for these next four years determine my next 50.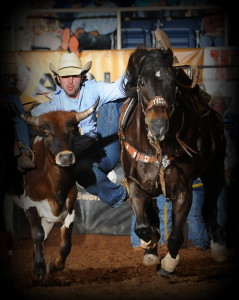 All that I have accomplished in this hectic senior year could not have happened without the support of my parents. They have driven me endless hours to and from events and have supported me lovingly and unconditionally. They have made sure that I had not only the best horses for competition but also the stock for practice. They provided me with an extraordinary education and great moral values.