Written by Barbara Newtown
Original Publish Date December 2015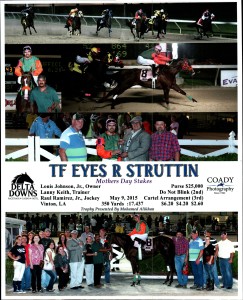 "I've been in the horse industry all my life," says Lanny Keith of Triangle K Racing. For years his father and grandfather trained racing Quarter Horses near Leesburg, Texas, about 120 miles west of Shreveport. Lanny remembers being at the track when he was only two years old, and he remembers sitting on horses and hanging onto their manes while they were being shod. In his grandfather's day, the racing was similar to what you might have seen at Louisiana's free-wheeling bush tracks. But when Lanny was learning the business, the family was entering local jackpot races that required an entry fee. He feels fortunate to have been surrounded by great horsemen in the Leesburg area. "I just grew up with horses. Racing never really interested me when I was younger, because it was a job, and I had to clean a lot of stalls!" But as Lanny got a little older his interest was re-kindled, and he took up the family tradition of training racehorses.
Lanny still lives in the Leesburg area. "We're in a real nice part of Texas," he says. "Sandy soil and pine trees." His home is on 54 acres and he leases more land for running cattle. There is a training track about 30 minutes from his farm, but Lanny rarely takes horses there. Home is for horses who need some time off. The 25 to 30 horses that are active in the Triangle K racing program spend their time in Louisiana, travelling between Delta Downs in Vinton, Louisiana Downs in Bossier City, Evangeline Downs in Opelousas, and the Fair Grounds in New Orleans.
"Everybody has an RV," Lanny says. "You go from track to track." Lanny tries to go home to Leesburg at least a couple of days a week. When he first started chasing the purses in Louisiana he was only able to go home two or three days each month. Now he has more time to enjoy family life, thanks to his assistant trainer Kyle Clinton. Kyle started galloping part time for Lanny at Louisiana Downs last year and now works for him full time, galloping 95% of Lanny's horses. Lanny says, "The only time I put a regular race rider on now is if we are going to go stand a horse at the gate. I like the horses to carry the rider that's going to ride them. The only other time someone other than Kyle rides is when I'm trying to work two or three together. Kyle does a real good job and it's been a blessing to have him."
Even with the help of Kyle, the demands of following Quarter Horse racing around Louisiana are tough on family life, says Lanny. His wife teaches school, takes care of their two boys (aged 9 and almost 2), watches over the farm, and keeps track of the family's construction business. Lanny says that he rarely has to step in and manage a construction job. "I've been in this business for 20 years. I had it really lined out before I ever started my race training. I hate to get out of construction, because it's been my living for so long." A fallback profession lends stability. He says that a trainer might have 30 horses today and 5 horses tomorrow. The racing business is highly competitive—not only do trainers compete for good horses, they also compete for good clients.
Lanny enjoys the people side of the racing business. "I've got really good owners. I want to be successful for the people I train for, because everybody wants to win. Of course we don't win every time, but we try to look good when we go up there. You just have to hope your horse is ready and performs the best it can. If it can't—well, you just hope you can get it next time!"
Right now all of Lanny's owners live in Louisiana. He's had several Texas owners in the past, but they all were racing Louisiana-bred horses. Despite the commuting hardship of living in Northeast Texas and racing all over Louisiana, Lanny is committed to the Louisiana racing scene. "I used to race in Texas and Oklahoma, but I started seeing articles in the magazines about the Louisiana-bred horses…I came down here, bought some yearlings, and went from there." Good purses and support for horses bred in-state make Louisiana a national draw.
Lanny appreciates Louisiana Downs in the northwest corner of the state. He starts all his two-year-olds on that track because it's the first track he can get them on and the surface is excellent. "I don't have a lot of trouble keeping them sound up there. And there's the Mardi Gras futurity." It helps family life that Louisiana Downs is much closer to Leesburg than the tracks in south Louisiana.
Lanny has a tip for racegoers: Louisiana Downs started running 110-yard races a couple of years ago, and those races have proven to be real crowd-pleasers. The gates are "right there"—practically next to the finish line. "You'd better not blink because it's over quick!" The 110-yard distance so far is only offered at Louisiana Downs, but Lanny thinks it's going to catch on at other tracks.
When asked about his training secrets, Lanny says he relies first of all on good feed. He has some special insight into what horses should eat: at East Texas State University at Commerce, Texas, he majored in Animal Science with minors in Reproduction and Nutrition. His first job after college was working for the agriculture company Archer Daniels Midland. In his racing stable, Lanny figures the feed rations specifically for each horse: grains, supplements, and protein percentages are fine-tuned, bucket by bucket. He admits that the guys who work for him don't enjoy preparing all those "made-to-order" meals, "but that's the way it is!"
Lanny has been baling his own hay and transporting it from home ever since he started racing in Louisiana. It is inconvenient to haul hay all the time, but Lanny believes it's worth it to know that the hay is baled and stored correctly and has consistent quality.
He also swears by good shoeing. "They have to stand on good feet," he says. "That's where it starts." Lanny estimates that 75% of his horses can wear nailed shoes. Some bloodlines have such thin hoof walls that the horses have to wear glue-on shoes. Lanny prefers nails when possible, because the hoof can expand and contract around the nails. Glue-ons hold the foot in one shape. There are other drawbacks to glue-ons: when it's time to change, you have to pry the shoe off the foot; and hoof oil will deteriorate the glue and pop the shoe off too soon.
Lanny wants his clients to purchase horses with good feet and good legs, of course. Leg conformation can't be changed, but hoof shape and hoof angle can be fixed a little. Even so, Lanny would prefer that owners not spend their money on feet that are already a problem. He asks his owners to find some horses at a sale that they like, and then ask him his opinion. "If I find a flaw, I will point it out. I try to work with them."
There are bloodlines that Lanny likes more than others, but he believes that there is more quality now than in the past. "You can pretty much close your eyes and pick, because they are so well bred now. When my granddad was breeding, there were some good horses out there, but now there is a stud farm on every corner! I hardly ever look at the book until I look at the horse."
Another shopping hint from Lanny: at the sale, he looks for horses that finish their feed, lie down, and go to sleep. Most of his winners over the years haven't wasted any energy. "Even on race day, they go lie down and sleep for three or four hours!"
Lanny believes in building up bones, muscles, and tendons at an early age. "Once you get them as stout as you can, you just have to maintain it." He doesn't carry horses to the track every day once they are in racing condition. At that point, they might be ponied as seldom as once a week. He adjusts the training to the horse. He says that he has a lot of horses that don't want to have riders on their backs at all when they go to the track to train; they just get ponied.
Another training task that happens early is gate training. Lanny wants to teach horses how to handle the gate when they are yearlings or coming 2-year-olds. He maintains that everything follows from being a good gate horse. "If you teach them how to leave a gate, they've got a chance at winning or at least competing."
A good gate horse will stand quietly, focus down the track, and explode forward when the gate opens. Lanny says that quality—the ability to go from standing still to zooming forward—is bred into the Quarter Horse. "Once they learn that concept," he says, "and see that crack in the gate, it's as natural as tying your shoe." Although Quarter Horses can attain their top speed in just a few strides, some horses might have trouble learning to focus on what they are doing. And some might just have quicker reflexes. The smartest gate horses anticipate the sound of the pin opening the gate: when they hear it, they know the gate is about to spring open, and they are already leaving. "Winning is simple: you just have to leave the gate!"
Happiness is the key to Lanny's success. He says that he has claimed horses "real cheap" from time to time and has done really well with them. He finds a niche for the individual horse that makes the horse happy, and the horse then can come up to his potential. Finding a niche is more than deciding how long a race the horse should enter—220? 870? In between? Or even 110? Sometimes a horse needs to be turned out in a pasture for a while and merely enjoy being a horse, bucking and playing. Other horses might need longer intervals between races.
As Lanny says, "I just want my horses to be happy. If horses are happy, they will perform for you. If not, you'd better figure out how to get them happy!"