Written by Barbara Newtown
Original Publish Date June 2015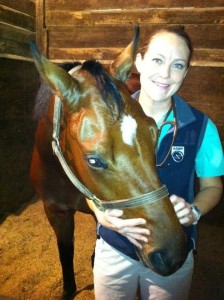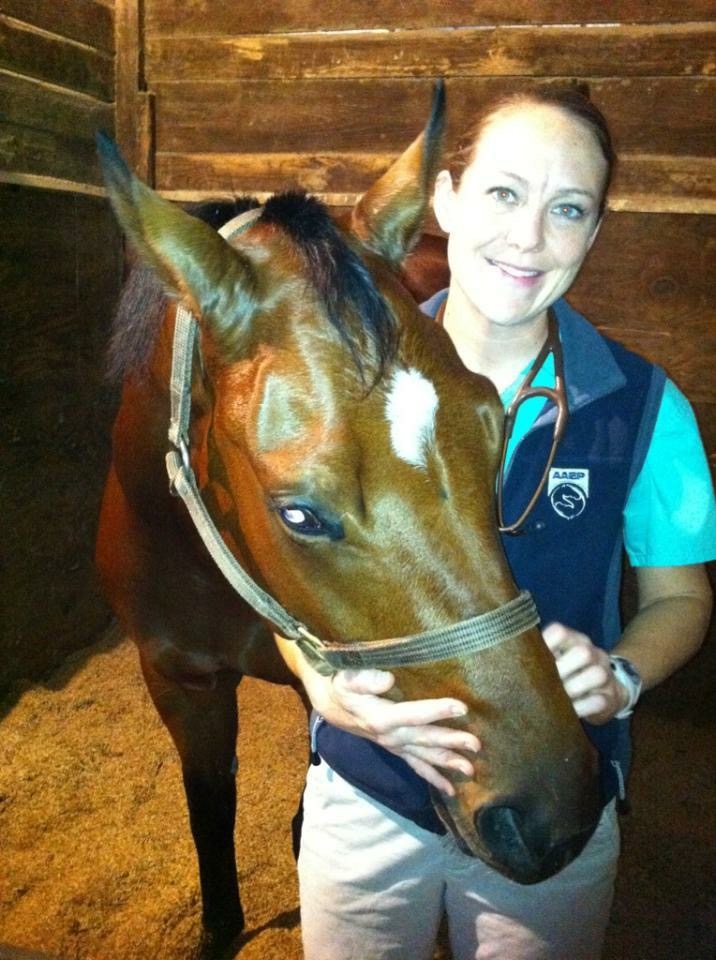 Emily Collins, DVM, works with Robert Hewlett, DVM, of the Benton Animal Hospital. The demanding mobile equine practice takes Emily all around Northwest Louisiana from early morning to six or seven at night.
"After work I usually bike or run or go to a class or ride my horse," says Emily. "Then I wake up early to swim or run…"
"Wait a minute," I say. "Biking and swimming and running, all in one day? That sounds like a triathlon!"
"Yes," she says. "That's what I do!"
Emily is modest. She says triathlon is just a hobby that requires a bit more time than most hobbies. She admits that she probably doesn't have Olympic chances, since she fits her training around a demanding full-time job. But she did come in 17th out of 150 in her age group at a triathlon in New Orleans, and she has managed to shave an hour off her time since 2012.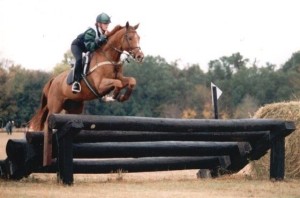 Triathlon holds a special meaning for Emily. She grew up in the Pony Club tradition, which emphasizes the sport of three-day eventing (dressage, cross-country jumping, and stadium jumping). "I thought it was neat that triathlon focused on three phases, just like eventing. I always described eventing as the triathlon of the horse world. To me the sports are similar: it takes a special person to be able to do all three triathlon phases, just as it takes a special horse to do eventing."
Emily started running when she was an undergraduate at Texas A & M. "I wasn't riding in college, and I'm a competitive person by nature," she says. "Then LSU vet school was very stressful, and I just had to do something outside of classes." She started running with a group organized by Jenni Peters, an Olympic runner who owns Varsity Sports in Baton Rouge. "When I turned 30 I signed up for my first half marathon and it just kind of escalated from there! Now I'm a little obsessive about it…in a good way."
Actually, Emily's passion is the Iron Man competition, which is a bit harder than the Olympic marathon or triathlon. The Olympic triathlon distances are: swim 1.5K, bike 40K, run 10K. The Iron Man, or Ultra Triathlon, distances are: swim 3.8K, bike 180.2K, run 42.2K. The 42.2K Ultra distance is better known as the marathon: 26.2 miles. "The full Iron Man took me thirteen hours," says Emily. She has only tried the smaller Olympic-size triathlon once. She prefers longer distances and sees more Iron Man competitions in her future.
"What do you think about…for thirteen hours of swimming, biking, and running?"
Emily says that a lot of athletes listen to music, but she does not. "If I run for three hours, I listen to my own little happy thoughts. You can think about all the good things…or, if something's bothering you, you can work it out in your head. It's therapeutic."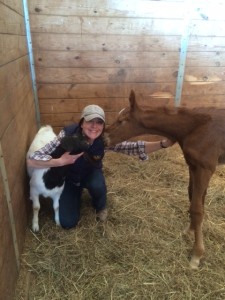 For longer races, Emily draws strength by thinking about her mother, who fought cancer, or someone else who has inspired her. But her favorite thing to think about is Mel, the horse she rode to Preliminary level eventing while she was in Pony Club. "He would have run cross country no matter how painful it was. He would have done anything for me. I think about him and I say to myself, 'Well, it might hurt a little bit, but, like Mel, I will just keep going,' and that's how I get through."
Emily met Mel when she was thirteen. She was taking dressage and eventing lessons from Regis Webb and she had outgrown the abilities of her first horse, a paint named Jake. "I rode other horses for people and leased horses, and Regis probably found Mel for me. I remember that I was sitting on the tailgate of a truck at the Hewlett's Holly Hill Farms in Benton, and this trailer pulled up. I had envisioned myself with a beautiful dapple gray. Then they unloaded this off-the-track Thoroughbred, and he was a skinny chestnut with a long mane and a gross coat. I was a typical 13-year-old—kind of snotty—and I said, 'That's the ugliest horse I've ever seen! Do I really have to look at that?' We turned him out on his own in the arena and he did trot extensions. And I said, 'I want him!' I made up my mind right there that I wanted that horse and it didn't matter what he did when I rode him." When Emily got on to try him out, he flipped his head nonstop. But it didn't matter. "In my mind, he was the best horse I'd ever ridden," she says.
So the racehorse Brilliant Power was renamed Lethal Weapon for shows, and became Mel around the barn. Although Mel was Emily's ideal horse, she admits that he was not sweet. "At first most people at Holly Hill didn't like him," she says. "He'd bite some people. You really didn't want to stand in the stall with him because he didn't like to be touched or groomed or saddled. But eventually he came to love treats and he would come to me. He became a pretty cool horse."
Emily says that Mel was a wonderful cross-country machine, able to jump anything and very brave. But he was also smart and careful. "He could get you out of any situation," she says. At the top of their career, Mel and Emily competed at a long-format Three-Day Event. The long format includes Roads & Tracks (several miles of energetic trotting) and Steeplechase (galloping over brush fences at high speed) on the traditional second day of the competition, in addition to the cross-country jumping. (In the early 2000s, the Olympics and the three other famous international events, Rolex, Badminton, and Burghley, dropped Roads and Tracks and Steeplechase. "Endurance Day" became just Cross-Country Day.) Mel did a good job in the long format and was ready to move up to Intermediate at his next competition, but it turned out that he had torn a suspensory ligament. Emily retired him and he went to live with a Pony Club family in Missouri. After a couple of years of turnout, Mel was able to pack Pony Clubbers around at the lowest levels of eventing.
Mel's upper-level career ended when Emily was 17. She had planned to take off a year between high school and college and event Mel, but instead she started right away on her life plan: becoming a veterinarian. "My parents said that when I was five years old I was telling everybody that I was going to be a vet. And I remember sitting under a tree at a Pony Club meeting at Holly Hill, and listening to Dr. Hewlett going over the anatomy of a horse's leg…that's when I knew that I like this stuff and that I could actually be a veterinarian!" Although her own plans of going to Rolex or the Olympics with Mel fell through, she knew that someday she wanted to take care of talented horses and help them get to the top.
Emily chose Texas A & M because Dr. Hewlett had gone there. She graduated with a degree in biomedical science and got a job as a research associate with the pharmacology department at LSU in Shreveport. "They hired me because of my veterinary background and they put me to work doing research on mice," Emily says. The department was very supportive and encouraged Emily to get a PhD in pharmacology, but she hung on to her veterinary plans, and strengthened her resume with clinical experience at Dr. Kathryn McFadden's small animal practice, the Towne South Animal Hospital in Shreveport. During this time her mother was diagnosed with cancer, and, Emily says, it was a good thing that her jobs enabled her to stay in her home town and help her family.
"Life got in the way," she says. "Things don't always turn out how you plan at the time. Looking back, I wouldn't change a thing, because I got a lot of unique experiences that have helped me deal with situations as a veterinarian." By the time Emily graduated as a full-fledged vet from LSU, six years later than her original plan, she felt that her increased maturity helped her deal with the complexities of the profession. Veterinarians have to tend to the feelings of the humans as well as to the physical problems of the animals. "Taking tests in school is hard, but it's not quite the same as discussing options with the owner of a pet that's loved like a family member."
Emily reminisces about her life with horses. She has been obsessed ever since she could remember. "I wanted to go to summer camp just so I could ride," she says. "I didn't care about the other activities." She took hunter lessons at Camelot Stables in Bickham Dickson Park in Shreveport, first once a week, then twice a week. She begged her parents for a horse. When she was ten or eleven, she found Jake, the paint, who was for sale for $700. Her father was sympathetic because he had grown up near a farm and had been allowed to ride there on the weekends. Her mother was terrified of horses, but she was willing to consider supporting Emily's dream. Nevertheless, her parents debated. In the meantime Emily had been saving "literally every penny. So I went to my mom and said that I had the $700 to buy Jake. My parents couldn't say no at that point!"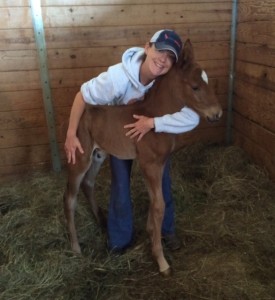 Then she started taking lessons at Patsy Fraser's south Shreveport boarding stable, and discovered that all the young people there belonged to the Caddo Pony Club, and that it seemed like a good thing. "I wouldn't be where I am now without that experience," Emily says. Pony Club teaches young people not only to ride, but also to train, give lessons, keep tack and barn clean, and keep horses fit and healthy.
Today Dr. Emily Collins is proud to be a good horse vet. She feels comfortable with horses because, as she says, she's been around them since she was seven. "There are times when I do move really quickly to get out of the way!" Another benefit of her mobile equine practice: Emily gets to spend even more time outside. Things don't seem as stressful out in the fresh air.
Emily finally has a horse: Gran Diva, a three-year-old chestnut Oldenburg mare. "She started out as my patient," says Emily. "I was working as an intern at Elgin Veterinary Hospital east of Austin, where we did a lot of race horses and Western horses. I knew the family that bred Diva and it was nice to talk with people who enjoyed the same things I did. I was on emergency duty and I got a call that a horse was coming in who had run into a fence. The owner was really scared, so I was waiting in the parking lot when they drove up. It was Diva. I got on the trailer with her and she was scared and trembling. Her right eye was pushed out of her head and she was basically breathing out of her forehead. I sedated her and we took her into surgery. When we peeled away the skin, her head was in about fifty pieces. We wired it all back together. I took care of her in the hospital. I'm sure she went through a lot of pain and didn't understand why. She went home eventually, and had another accident; the owners asked me to come out and see her. She let me come up to her and put on a halter. No one else had been able to touch her. Later, the owners called and said they wanted me to have her. I said that I couldn't afford a registered warmblood—I was just an intern! And they said that they wanted me to have her because we had bonded and that they were sure that we should be together. So I got Diva!" Emily's life has come full circle: once again she's taking lessons at Holly Hill Farms with Regis Webb and dreaming of the equine triathlon.