Written by: Mike Milazzo and Barbara Newtown
Original Publish Date June 2015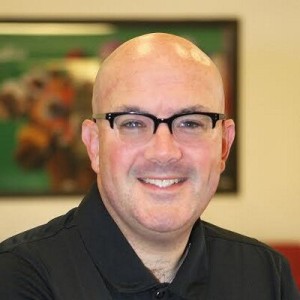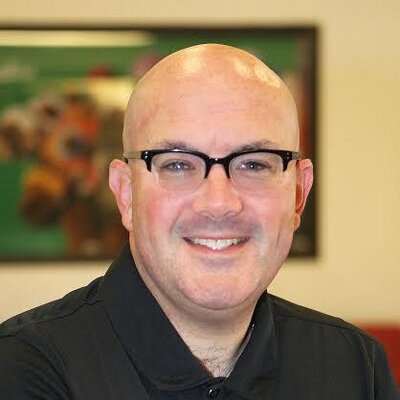 Michael Chamberlain, track announcer at Evangeline Downs, is new to Louisiana culture and traditions, but when it comes to calling exciting horse races he's a seasoned pro.
Michael was born in New Jersey and was a big fan of horse racing while he was growing up. It was the time of Ruffian, Seattle Slew, Spectacular Bid, and Affirmed. "I enjoyed listening to Chick Anderson and Dave Johnson call some great races," he says. "I watched a lot of racing on television and then I got the opportunity to go to Belmont Park, the Meadowlands, and Monmouth in New Jersey and watch live racing." Being part of that era of great horses, horsemen, and announcers made it easy for a wide-eyed kid to be a big fan of the sport.
When Michael was 17, his family moved to Arizona. He attended Arizona State University and majored in Broadcast Journalism. His first love was baseball and he wanted to follow in the steps of great baseball announcers like Vin Scully, Jack Buck, and Mel Allen. Michael explains that he was able to fulfill that dream somewhat by calling a lot of baseball games in college, but as time wore on the opportunities to do so were few and far between. He ended up going out to the track at Turf Paradise with a press pass because he was working for a sports radio station in Phoenix. He was able to sit in the press box and he practiced calling races on the press box balcony. "The people in the box would hear me and they would say you are actually getting better and they arranged for me to call a race," Michael recalls. "I think the idea was that I would actually be terrible and everyone would have a pretty good laugh at the radio boy's expense." He did a pretty good job and got to go back and do it a couple more times.
Michael became good friends with the late great track announcer Luke Kruytbosch, who was at Turf Paradise at the time. Luke encouraged Michael to keep at it and, anytime there was a chance for him to call a race at the track, Luke would let him have the opportunity. "We put together a demo tape and mailed it out to a few places and I got the job at Sam Houston Race Park in January 1997. I was there for 12 years and stayed through the summer of 2009. Then the announcer's job at Turf Paradise opened up and, with the help of my friend Frank Mirahmadi, who is now the announcer at Oaklawn and Monmouth, I had the opportunity to go back home. I jumped at the chance and went back to Phoenix for 6 years. I had a great time there and the people at Turf Paradise are just tremendous," Michael says.
Michael called both Quarter Horse & Thoroughbred races at Turf Paradise and Sam Houston. At Houston, the track had separate Quarter Horse meets, as they do at Evangeline Downs. Turf Paradise ran one or two Quarter Horse races at the start of the day and followed with Thoroughbred races, depending on the time of year. "I loved every minute of my time at Turf Paradise and I will always take pride in saying I was the announcer there."
Michael is ready for the next stage of his announcing life. "I hope to be at Evangeline Downs for a long time," he says. Michael has experienced some culture shock, however. "The biggest thing I've had to learn is the pronunciations: you look at a word or name in the program and it is not pronounced the way it looks on the page!   Don Stevens at Delta Downs and everyone here at Evangeline have tried to make sure I have learned everyone's name and if I do make a mistake, I am always apologetic. That's been the biggest adjustment as far as just doing my job!"
Michael became familiar with some South Louisiana cuisine while he was in Houston. Since moving to Lafayette, he has been enjoying the food even more. His girlfriend is coming here this summer, and he told her he needs to lose about 40 pounds before she arrives. He says, "The food is just great. I'm a big fan of crawfish and etoufee and all those wonderful dishes!"
Michael says that the Need for Speed Stakes (the prep race for the turf sprint originally scheduled for the 30th of May) was a memory-maker. "The race was won by a horse named Reflector. It's only a five furlong sprint down the turf, and Reflector was dead last in a field of eight around the sixteenth pole. He just came flying on the outside and went past everybody. I didn't see him until the absolute last second when they were coming to the finish line. I managed to say, 'Oh, there's Reflector!' That was the most exciting race for me to call so far."
Reflector's come-from-behind surprise was a Mine That Bird moment. (Mine That Bird won the Derby at 50 to 1.) Michael says, "When Mine that Bird won the Kentucky Derby, I hit that exacta because I play my birthday, August 16th, every year. I just do a silly little exacta box, 8-16, and that year Mine that Bird was 8 and Pioneer of the Nile was 16 and I got $2100 dollars out of it, the biggest ticket I ever cashed."
Michael says that calling a come-from-behind win at Churchill Downs can be difficult for an interesting reason. "When Street Sense won the Juvenile, the exact same thing happened: the horse came up the inside and the announcer didn't see him until he got the lead.  The way the booth is set up at Churchill, you're looking through a lot of glass panels. It's almost like you're looking through a prism. When they get to the top of the stretch, they kind of just disappear for a second. Thankfully, the guys calling those big races are so good that you may notice it for a split second, but it's still a great race call."
"I've kind of been the new kid on the block," says Michael. "I have gotten a warm welcome here and I am very appreciative. I want to thank everyone for being so nice! The horsemen, the fans, everyone I've encountered has just been terrific. Don Stevens, the announcer at Delta and kind of my boss, has been fantastic to work with. I look forward to having a very long association with Evangeline Downs."
Michael has a tip for the betting public: bet your birthday. "Do an exacta box or a straight trifecta. You can hit a big ticket, too, just by making a silly little bet!"  
Michael concludes by saying, "Come out and enjoy the races and the atmosphere here at Evangeline Downs."