Written by Barbara Newtown
Original Publish Date April 2014
Tracy Hewlett has accomplished the impossible: she runs a boarding stable that is famous for miles around for being cheerful, nurturing, friendly, and … competitive. Holly Hill Farm is one of the best dressage and eventing barns you can find on the route between Dallas and Birmingham. In the spring and fall, usually in the last weeks of April and October, Tracy puts on the Holly Hill Farm Horse Trials, sanctioned by the United States Eventing Association with divisions from Starter up to Advanced Intermediate. Other weekends are usually filled with dressage shows (Tri-State Dressage Society), hunter-jumper shows (North Louisiana Equestrian Association), United States Pony Club training sessions, dressage and jumping clinics, and Parelli classes. Six instructors guide students and horses through the levels from the basics to preparation for national competitions.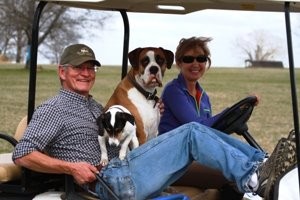 The farm, located in Benton, Louisiana, enjoys the added advantage of Tracy's husband, Dr. Robert Hewlett, DVM, who specializes in equine care. In the back of the property, on a hill overlooking the cross-country course, "Dr. Bobby" boards and breeds Thoroughbred racing stock. A few miles down the road Dr. Bobby oversees the Benton Animal Hospital, a facility for small animals.
Holly Hill's 280 acres support not only the event courses and the Thoroughbred operation, but also indoor and outdoor arenas, three turf dressage arenas, three show barns, two boarder barns, a barn for the Hewlett's horses, a bed-and-breakfast, and homes for Tracy and Bobby and for her parents.
Everyone in Tracy's family enjoys the horsey lifestyle. Dr. Bobby, besides knowing how to treat horses' ills, also knows how to navigate a Preliminary level event course. Daughters Heidi and Paige have ridden in national Advanced level events, and can break, train, and teach. Heidi now lives in Texas and is a representative for a surgical-equipment manufacturer. Her husband Kevin is an expert in corrective shoeing. Since he takes care of most of the Holly Hill horses' feet, he and Heidi get to visit several times a month. Daughter-to-be Emma May, Tracy and Bobby's first grandchild, already has a tiny equestrian wardrobe waiting for her.   Heidi's younger sister Paige lives just down the road from the farm and is studying to be a physician's assistant. When she has time to take a break from endless memorizing, she's at the farm, schooling a boarder's horse or sneaking a ride on one of Tracy's. Son Robert, the eldest, also a veterinarian, practices in Australia, but comes home often to work alongside his dad. Tracy's mother Connie is in charge of hospitality—making sure judges and officials are well-fed, comfortable, and driven to and from the Shreveport airport. Tracy's father Steve paints jumps, updates signage, makes repairs, and keeps an eye on the Bradford House, a charming bed-and-breakfast on the farm property.
Tracy's journey to her Louisiana dream farm started in upstate New York.
"I grew up in Rochester," says Tracy. "My parents remember when I discovered horses. The circus came to town, and my dad found where they kept the animals. The circus people put me up on a little black pony, and I was absolutely obsessed with horses from then on." As soon as she could talk, every birthday, Christmas, Easter, Valentine's Day Tracy would beg for a horse. "They made a nice attempt. My dad would meet people at work who had horses. He would take me to visit their horses—usually rotten, nasty ponies! They would rub me off on trees, but I didn't care. My mother had a college friend who had some nice horses. I used to dream about them. Finally, when I was twelve or thirteen, I did a couple of summer camps at a stable, and really got into it. At the second one, I was the grand champion of the whole show, and the trainer said, 'She really could be good at this.' My parents sighed and said OK.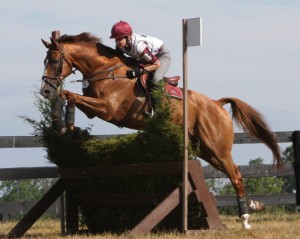 "The first horse we bought was a disaster. A horse trader sold us a Morgan-Quarter Horse cross named Toby who was trained in Western. I took him to the Mendon Pony Club, south of Rochester, and they told me he wasn't suitable. He was stubborn and had been ridden in a big bit. Pony Club wanted me to ride him in a snaffle, and he just ran right through it. I was a beginner. Mendon was a big club—over two hundred kids, divided up into all the Pony Club groups—D1, D2, and so on, all different instructors. It was a multiple ring circus. I was out in a field with my beginner D1 group, and Toby just kept leaving the circle. I would be pulling, yanking…it was awful! We sold him and leased an older horse from a Pony Club family. Shadrack. He was fantastic. I did everything on him, fox hunting, several Pony Club ratings. After a year with Shadrack, I was fourteen, and my next horse was Fantastic Story, an off-the-track Thoroughbred from a hunter-jumper barn. He had only a little bit of training. We were taking a chance, but it turned out well. He had a lot of talent. I took him from D2 through Preliminary eventing, and even to the national U. S. Pony Club games rally. We sold him just before I went to college."
Tracy attended Cornell University in Ithaca, New York. She didn't compete on the college equestrian team, but she did make the polo team her freshman year, which was quite an accomplishment. "Literally hundreds of English riders showed up to try out. I made the team because they gave me a hot, red-headed Thoroughbred, just like Fantastic Story. I was supposed to gallop away, spin around, and gallop back. The coach said he'd never seen anyone ride that horse like that—he was tough! I said he was right up my alley."
Tracy discovered that during competitions the underclassmen were just slaves for the varsity team. "When we had home games, all we freshmen did was walk hot ponies. Not really what I wanted to do!" Tracy did get to scrimmage at Cornell with the other riders, though. Her Pony Club training served her well; in polo you need to ride off your seat and legs, just as in dressage, because you are wielding a mallet. Polo is like "high school" dressage in another way: reins are in one hand, leaving the other hand free for a mallet—or, in the case of cavalry training, a saber.
"I didn't try out for polo the next year. Instead, I met a girl in the lunchroom at Cornell who had a really nice hunter. Her parents had let her bring it to school; it was boarded right there, and she never rode it! She handed me the key to her locker and said, 'Ride him whenever you want.' For the next three years he was my stress relief. We rode on all the tons of land Cornell has. And there were open shows right there in the Cornell covered arena."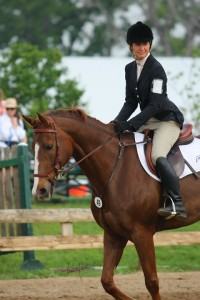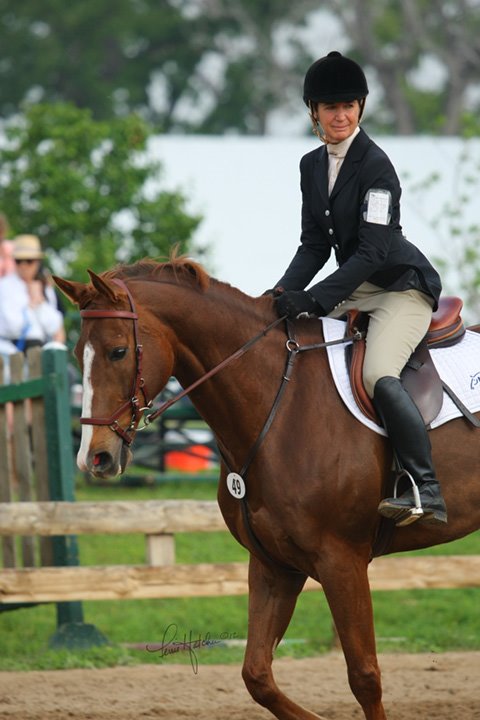 Tracy's major at Cornell was Animal Science: Physiology and Nutrition. After graduation she went to Texas A & M for graduate work in Animal Nutrition, but discovered when she got there that the program concentrated on beef cattle. Her first semester she collected rumen samples: the cattle in the study had holes in their sides, and Tracy had to put on triple gloves and stick her hand into the stomachs to collect partially digested feed. The school did have a horse nutrition program that was just starting up, but there were no research assistantships available.
During her first year at A & M, Tracy worked part-time at a hamburger joint called the Cow Hop. One day she got to chatting with a customer and described how she didn't enjoy what she was doing and how there was no money available to do what she really wanted to do. The customer remarked that there was an opening in the graduate program in toxicology. Tracy was immediately interested, because she had loved biochemistry and physiology at Cornell. The position turned out to be in the veterinary diagnostic lab, with the freedom to choose what sort of research to pursue. Tracy was able to transfer without re-applying.
The summer after her first year Tracy was living in a house owned by the A & M "Ag" fraternity. She was still waitressing and hated it. Friends living upstairs at the house encouraged her to apply for a construction job they were working on: adding seating to the A & M stadium. "There aren't any women working construction," they said, "and there should be!" Tracy was a trailblazer: the only woman among two hundred workers. "I was on the concrete crew," says Tracy. "But the boss babied me. I only ran the tamper once. He said, "Oh, if you get that concrete on your skin, it will burn!' So he gave me a big magnet and I went around picking up clipped-off pieces of rebar. I cleaned up old concrete, cleaned offices. The job was ten hours a day, seven days a week. It was exhausting, but I made a ton of money." The experience was invaluable: Tracy learned how to get a job done and how to hold her own in a masculine world.
Also living in the Ag house was a newly-graduated veterinarian named Alan.   Tracy and Alan, good friends united by a love of horses, went out to dinner one time with Alan's best friend, Bobby Hewlett, and Tracy and Bobby hit it off…and within two weeks Bobby asked Tracy to marry him. "Alan was pretty shocked," says Tracy.
When Tracy was in her last year of graduate school, Bobby got an offer to work at a large broodmare farm in Benton, Louisiana. When Tracy finally got up to Benton, after finishing her course work and defending her master's thesis, she was pregnant with son Robert. Not long after Robert was born, a friend of Tracy's said, "They're having a toxicology seminar at the Louisiana State University Medical School in Shreveport. You should go!" The topic was methanol and ethylene glycol poisoning—which happened to be Tracy's area of expertise. She stood up at the meeting, in front of almost the entire LSU med school faculty, and mentioned that she had researched new methods of diagnosis and treatment. At the conclusion of the meeting, one of the professors ran up to her and said, "Who are you and do you want a job?"
Tracy was hesitant—she had a new baby, after all. But he offered her a part-time position with flexible hours, and the freedom to do her own research and put her own name on the scholarly papers. This job lasted until Tracy became pregnant with Heidi. She had to quit, because the chemicals in a toxicology lab can be teratogenic: harmful to a developing fetus. When Heidi was four months old, the lab called and offered her another job: researching all the potential poisons that IBM employees could come in contact with. "They wanted a PhD toxicologist, but none had applied. So they offered me the position. I had to debate with myself…they offered so much money that I could hire a babysitter… I worked full time for two years. Then I became pregnant with Paige, and had to quit again."
Tracy, Bobby, Robert, and Heidi were living in a Benton subdivision at that time, not yet on the Holly Hill property. Robert wasn't sure about moving to a farm, because he enjoyed the suburban life: hanging around with friends on the block, riding a bike on asphalt. The family moved the day Paige was born. Robert came to appreciate rural life; he realized that all of his friends wanted to come visit him and fish in the pond, explore the woods, make a paintball course. "Paige hung out at the barn in her stroller and play pen, and Heidi was already old enough to enjoy horses. It is a great life, with animals, hunting, fishing, exploring…a great way to raise kids." After a while Tracy invited a few friends to board at the farm.
A few months after Paige was born the toxicology lab called once again. Tracy lined up babysitters, house cleaners, and cooks. The night before she was supposed to start work Bobby had a meltdown. "What are we doing?" he said. "Who's going to take care of this family, the kids, the farm? And who's going to take care of me?"
Tracy said, "If you don't think I should go to work tomorrow, I won't. I think we can make a business here, with a boarding stable. But you have to call my boss tomorrow morning!"
Then Holly Hill Farm took off. The business went from four stalls to eight to twelve…and now there are over fifty boarders and seventy stalls for shows. (Bobby's Thoroughbred breeding business is separate.) "We're maxed out now," says Tracy. "If I get any more horses, the pastures will get overgrazed and the barn workers will start complaining!" She always has a waiting list. "It helps that I am a rider, too," she says. "I know what's going on, how the footing is, how the business is going from the boarders' perspective. I boarded my horses when I was growing up, and I noticed that you can tell if the owners aren't riders. I also try to keep everybody getting along, keep the fires from starting."
Holly Hill is now the home of the Gator Bayou Pony Club, which Tracy started when Heidi was two. "It's so cool to see it carry on. I've been treasurer now for thirteen years. It's a great group of kids and parents. They just put on a hunter-jumper show, and everything went so smoothly." The Gator Bayou Pony Club and resident instructor Regis Webb produce excellent riders: Julie Norman, Kelsey Regan, and Sydney Conley Elliott all teach at the farm now, and compete at the highest levels of eventing. "A big crowd is going up to Lexington, Kentucky, next month to watch Julie ride in the Rolex Four-Star Three-Day Event," says Tracy. "Rolex" is the toughest and the most important three-day event in the Western Hemisphere. Julie will be competing against the best of the best, including some of the best riders from Europe.
"The main reason we bought this farm was my love of horses," says Tracy. "But the demands of running a boarding barn and organizing big competitions can get in the way. I also learned early on that showing wasn't feasible when my girls were showing. I rode along with them from the ground, every jump and every dressage movement!" Now that Heidi and Paige are starting their adult lives, Tracy can finally concentrate on herself. She has enough time to ride two horses a day.
Topaz, also known as One Step Closer, is her event horse. They took first place this March in the Novice division at the Meadow Creek Horse Trials. Topaz also competes at Second Level dressage.
"Betsy Gosling kept telling me about this awesome German Riding Pony," says Tracy. "His owner wasn't riding him and was getting tired of paying all the bills. So I'm leasing Klaus. He's an upper-level, Prix St. George dressage pony. He's tiny—probably 13.2, but he has big movement. I'm always surprised when I jump off him and the ground is right there!   Flying lead changes are his favorite thing—he can change every two strides."
Tracy has goals for the coming year. "With Topaz, I'll keep doing Novice until it gets boring," she says. "We may move up to Training this year. I want to show Third Level dressage with Klaus, and maybe with Topaz, too. I have bought a trailer with living quarters. Heidi will be riding again by summer. There's just enough room on the floor for Emma May's playpen. Heidi and Emma and I will be going off to shows together!"
Tracy reflects on what Holly Hill means to her. "I feel that this is a little piece of God's creation," she says. "I feel that I need to take care of it and share it."
We friends of Holly Hill are so fortunate to enjoy the fruits of Tracy's dream.